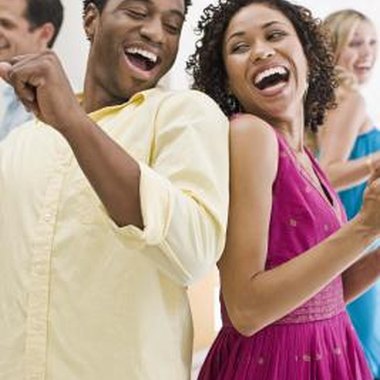 A couple's shower is a gathering for all of their closest family and friends to "shower" them with well wishes, advice and gifts before the actual wedding day arrives. It is an amalgamation of the bridal and groom's showers into one large gathering. There are still games and gifts to be given and the atmosphere is still casual. It is also an opportunity to embarrass the couple with gag gifts for the honeymoon and their life together.
Aphrodisiac Foods and Scents
A basket or box filled with non-perishable food items such as honey and chocolate will help get them into the mood come the honeymoon. The sweet gifts should be paired with a bottle of champagne and glasses, along with scents that will also continue the fun. Jasmine, lavender and sandalwood are all scents with intense aphrodisiac qualities. Bath and body products and massage oils will make for great additions to this honeymoon basket for the lovebirds. The presentation of this gift will make the couple blush and everyone will laugh and have fun watching them open it up.
Instruction Dice
The newlyweds will more than likely laugh upon opening these dice. The dice are customizable with funny or naughty instructions on each side. When the couple is in the bedroom or even having an argument, they must use the dice for ideas or to settle a score in a humorous manner. They simply roll for a different answer each time. It does not matter how silly the instruction might be, the idea will make them remember how much they love one another even in harsh moments.
Lingerie for Two
It is often the bride that will be the focus of lingerie gifts but this does not mean both members of the couple cannot be in on the fun or embarrassment. Many bridal showers will feature the bride being forced to wear lingerie on top of her clothes, this will be a hilarious gag for the couple for both of them to wear purchased pieces on top of their clothes. The bride will have to sport something revealing and lacy, while the groom will be given something like a small Speedo. The pictures will be irreplaceable and the couple will never forget it. This is only useful for light-hearted couples who can take a joke!
The Kamasutra
A gag gift that will be sure to embarrass the couple, but also make them laugh and potentially give them a guide if required, is this book of love. "The Kamasutra" is known as an instructional guide to intriguing positions. The couple will be teased endlessly but the effect will be an overall jovial reaction to the gift. The book is also available in shorter, cartoon versions for a light-hearted take on the classic. Have the couple act out some of the positions with their clothes on and ask other couples to join in as a joke.
Photo Credits
Jupiterimages/Brand X Pictures/Getty Images