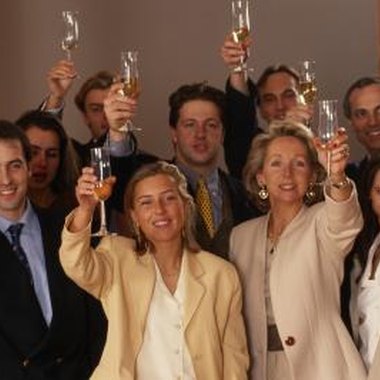 Although historically used as departing words for friends leaving on a ship, the term "bon voyage" is now commonly used anytime we say goodbye to family, friends or co-workers who are embarking on a trip or new life journey. When you plan a bon voyage party theme to mark the occasion of a co-worker leaving, you will use the boat/journey theme in everything from invitations to room decorations.
"Love Boat" Theme
Encourage co-workers to wear nautical costumes and name tags that identify them with well-known characters from the 1970s-80s television show "The Love Boat." Decorate tables with mounted photographs of Captain Stubing, Gopher, Dr. Bricker and Isaac Washington. Include word "bubbles" on each photo that wish the co-worker well on his new endeavor from the show's cast. Load up a gift basket with nautical gifts, and add a message from cruise director Julie that instructs the guest of honor to have a great time at his new job or in his new city. Kick the fun up a notch by using images of special guests from the show, such as Charo, to decorate a group "goodbye" card.
Bon Voyage: Your Ship Has Come In
Decorate the party room with hundreds of toy boats of various sizes. Use a large poster of a steam ship to herald "Your Ship Has Come In," and celebrate a co-worker's job advancement or career change in style. Put together a gift basket featuring gifts with a boat motif such as a journal or day planner with a boat motif cover, "lifesaver" candies, boat ornaments, accessories and DVDs such as the "Gilligan's Island" series, "Dead Calm" or "Titanic" depending on the guest of honor's personal tastes.
For the New Job or City
For a co-worker leaving town, say "bon voyage" with a slant toward his new city or state. Decorate inexpensive costume captain hats with picture cutouts of the new city skyline or items that make the city special. Fill a lifesaver centerpiece with tour books about the new location and a boat-shaped box full of items needed to make the move more enjoyable. Include a bottle of champagne with a custom card attached featuring an image of a boat and the "bon voyage" salute.
"Titanic" Characters
Let your co-worker know that you valued his contribution to the job with a "Titanic"-bon voyage-themed party. Use an image of the Titanic on a poster board along with the words "we have a sinking feeling about you leaving ..." and ask all the guests to sign the poster-card. Provide "Titanic" movie character name tags for party attendees, saving the main character for the guest of honor. Make the name tags yourself by copying and printing movie character images and gluing them onto traditional name tags. Decorate the party room tables with fancy teacups and dishware to hold appetizers and snacks. Make round port windows out of poster board, and include waves halfway up the "window" to replicate a ship's view. Use manufactured "Titanic" decorations to enhance the room's look and provide going away gifts in a vintage trunk to include a copy of the movie "Titanic" as well as other "Titanic"- or ship-related gifts.
Photo Credits
David De Lossy/Photodisc/Getty Images