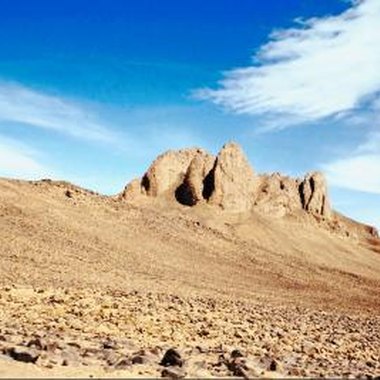 Rated by the United Nations as one of the world's least developed nations, Niger's exotic attractions and culture bring tourists an unusual sense of fun adventure. Tourists can experience Nigher's wildlife of giraffes, hippos, warthogs and other exotic animals on a safari or by taking a canoe trip. Riding a camel or walking along sand dunes, tourists can immerse themselves in Niger's geography and lifestyle to experience a country rich in culture.
Giraffe Sightings
One of the fun attractions in Niger is the giraffes that can be seen during a half-day safari just 45 minutes outside of Niger's capital city of Niamey. You can experience the giraffes visiting you close to the vehicle. What makes the attraction special is that the West African giraffe with light colored spots is almost extinct and can only be found in Niger.
The Niger River
A fun canoe trip provides attractions of wild animals along the Niger River. From Niamey, you can take a journey lasting 10 to 14 days in a dugout canoe known as a piroge. After October and before March is the best time to take the trip. You are likely to encounter hippos and may also see baboons, warthogs and snakes. Crocodiles may occupy the water, according to Jim Hudgens and Richard Trillo, authors of, "The Rough Guide to West Africa," but that is a rare sighting and you are safe in a boat.
Desert of Tenere
Trekking with a local caravan by riding a camel or walking along the sand dunes gives you the opportunity to experience the desert attraction of Tenere. You experience the ancient lifestyle of the caravan making its way to the ancient trading crossroad of Bilma in the heart of the Sahara to trade goods. Along the way you will pass approximately 93 miles of a dinosaur cemetery filled with fossils.
National Museum of Niger
The main attractions of the National Museum of Niger include miniature pavilions of Niger and the last tree of the Sahara. In the museum, craftsmen make leather and weave. Tourists have fun purchasing handmade goods, handicrafts and pottery and especially the silver Croix d'Agadez jewelry, which the local people of Niger believe protects against ill fortune.
Photo Credits
Jupiterimages/Photos.com/Getty Images