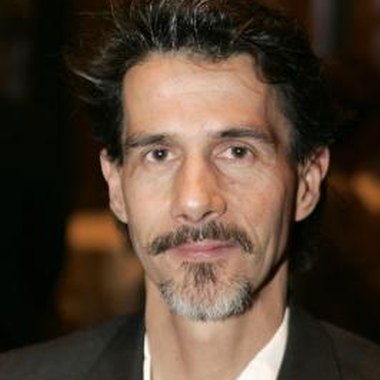 "Black Robe" is a 1991 movie starring Lothaire Bluteau, Aden Young and Sandrine Holt. It was directed by Bruce Beresford and adapted from Brian Moore's 1985 novel of the same name. The film was named "Best Canadian Film" at the 12th Annual Genie Awards, with August Schellenberg also taking home the "Best Supporting Actor" trophy.
Father LaForgue
Jesuit Missionaries arrive in a small French settlement in Canada. They attempt to convert the local Algonquin Indians to Christianity but are met with resistance. A young Jesuit priest, Father LaForgue, is sent on a mission to a distant Huron village. His aides on this mission are his assistant Daniel and a small group of Algonquins. During the mission, Daniel falls in love with a young female Algonquin called Annuka, much to LaForgue's dismay.
The Montagnais
On their travels, the group comes across a tribe of Montagnais Indians. Having never met white people before, the tribe is suspicious of LaForgue and his influence over the Algonquins. The tribe's shaman declares LaForgue to be a devil and tells the Algonquins to abandon him. They do so, but Daniel is so committed to Annuka that he abandons LaForgue to stay with her. A Montagnais tribesman shoots at him, making the Algonquin realize that they were wrong to abandon LaForgue. They team up with Daniel to set about rediscovering him.
The Escape
The Algonquins and Daniel find LaForgue, but are soon ambushed by a party of Iroquois. One of them is killed instantly, while the rest are kidnapped and tortured. Annuka seduces an Iroquois to help them escape, but during their escape her father is mortally wounded. Her father refuses LaForgue's offer to be baptized before his death, and they leave him to die in the snow. Before dying, her father has a vision that LaForgue must enter the Huron village alone.
Baptism
LaForgue enters the village to find all but one of its French inhabitants massacred by Hurons. The last survivor tells him that the Hurons have smallpox and are dying out. LaForgue sets out to find the Hurons and baptize them. When the Huron leader asks LaForgue if he loves the Natives of the country, he answers "Yes." LaForgue is then allowed to baptize the Hurons, embracing them into Christianity.
Photo Credits
Michael Buckner/Getty Images Entertainment/Getty Images