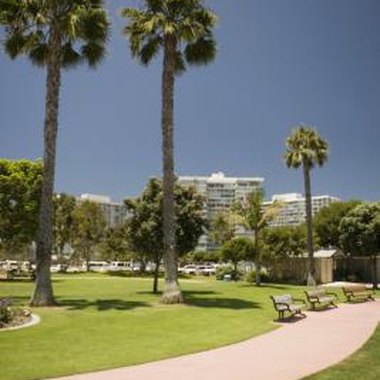 Coronado Island, which connects to San Diego by a long bridge, seems worlds away from the bustling city right across the bay. The feeling here is laid-back, with a casual warmth that adds to the charm of this lovely small town. The big, beautiful Hotel Del Coronado is the island's most famous hotel, but there are dozens of smaller inns and bed and breakfasts for those seeking a friendly, relaxed place to unwind.
Crown City Inn and Bistro
The Crown City Inn and Bistro, within walking distance of Ferry Landing Marketplace, is both family and pet-friendly. In fact, pets are so welcome here they get their own welcome package that includes toys, treats, and a list of pet-friendly parks and beaches. In addition, your guest room will have a pet placemat with food and water dish. Children receive goody bags upon arrival, and the inn has a cupboard full of coloring and activity pages, crayons, board games, books, wagons, and beach toys. Children stay free, and cribs and rollaway beds are available. The inn offers afternoon treats in the lobby, including shortbread cookies, iced tea and hot cocoa. The bistro is an intimate, one-room restaurant offering a continental menu with a French flair.
Glorietta Bay Inn
The Glorietta Bay Inn consists of an 11-room mansion and 89 contemporary rooms and suites. The inn has all the modern conveniences you'd expect in a luxury hotel, but its architecture takes you back to a slower time. Rattan furniture, leaded windows, period light fixtures and ferns grace the lobby, giving a cozy, intimate feel. The inn is only steps from Coronado's world-class beachfront. The inn offers a complimentary expanded continental breakfast, terrace dining, and afternoon refreshments, as well as a heated pool and spa.
1906 Lodge
Coronado's 1906 Lodge is a bright and comfortable small inn that was originally built as a boarding house. Many of the 17 rooms and suites have private balconies. The common areas are spacious, and guests often linger in the garden courtyard outdoors, which is filled with fountains, bougainvilla and other flowering plants. The rooms are homey; in fact, you'll feel like you're staying at the home of a wealthy friend. Some rooms have fireplaces and claw-foot tubs. The owners leave plush bathrobes out for guests, and they offer a nightly turn-down service. The inn is within walking distance of the beach, the bay, golf courses and dozens of restaurants and shops. A gourmet breakfast and afternoon wine and snacks are included.
Cherokee Lodge
The Cherokee Lodge is a 12-bedroom bed-and-breakfast inn in a quiet residential area, but only a short walk to downtown. This homey lodge is made up of three houses that were barged over from San Diego in 1896 and joined together to form a public lodging house. The inn is named after the Cherokee roses that grow in profusion in the front yard. There are restful, intimate common rooms, and the guest rooms are small but attractive. The lodge is four blocks from the beach. Breakfast is included.
Photo Credits
Medioimages/Photodisc/Photodisc/Getty Images