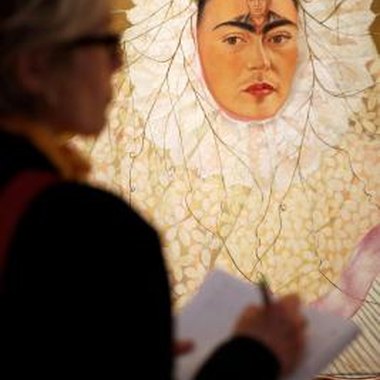 Frida Kahlo, born Magdalena Carmen Frieda Kahlo y Calderón in 1907, was a Mexican painter. She used her tragedy and pain, including a debilitating traffic accident, to fuel her creativity into art. Her art is a mix of surrealism and traditional Mexican art, and Kahlo used religious icons to symbolize different emotions and ideas. Several films, both documentary and full-length works, have been made about Frida Kahlo's fascinating life and provocative art.
The Life and Death of Frida Kahlo
This was the first documentary made about Frida Kahlo's life. The film was made about 12 years after Kahlo's 1954 death, but it wasn't shown on a national level until the 1970s. The film is narrated by 11 people who knew Kahlo well. According to a Frida Kahlo fan page, this early film is considered to be the work that placed Kahlo's personality and work in the spotlight for the first time.
Portrait of an Artist Frida Kahlo
This 1983 documentary was narrated by Sada Thompson and written by Hayden Herrera. It explores the tragic bus accident and subsequent surgeries and physical ailments that left Kahlo scarred physically and emotionally. Her often volatile marriage to artist Diego Rivera is also explored in great depth. Lastly, the film looks at Kahlo's influence on art, sexuality and politics.
Frida: Naturaleza Viva
This Mexican movie is the first full-length film about of Kahlo's life and art. Kahlo is played by Ofelia Medina. This biographical film is in Spanish with English subtitles and has little dialogue, so it is probably not a helpful film for a Frida Kahlo novice. The shortened title is simply "Frida."
Frida
This is perhaps the most popular film about Frida Kahlo; it was a blockbuster. Salma Hayek, who plays Kahlo, was nominated for an Academy Award for Best Actress for this role. Her passionate portrayal shows Kahlo wrestling with her demons of physical ailment, love, creativity and lust. Unlike some of the other films, this full-length film from 2002 explores Kahlo's extramarital relationships in depth. Kahlo had a well-known affair with Leon Trotsky, a Russian Marxist revolutionary, and several intimate relationships with women.
References
Photo Credits
Sean Gallup/Getty Images Entertainment/Getty Images