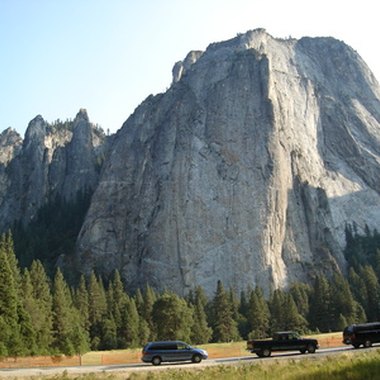 Located in the heart of California's San Joaquin Valley, Fresno provides a convenient gateway to three popular national parks – King's Canyon, Sequoia and Yosemite. Visitors to Fresno who'd like to stay in the city's downtown area have four hotels to choose from. However, the selection, although limited in number, includes accommodations that range from budget-level to high-end.
Four Points by Sheraton Fresno
On the northern edge of Fresno's downtown business district, this two-story, 204-unit hotel offers accommodations that fall into the mid-range pricewise. Only on-half mile from Fresno's Manchester Center mall, the hotel is a smart choice for visitors who enjoy shopping. Nestled in the middle of lavishly landscaped gardens, the hotel has an outdoor swimming pool and fitness center and is only a short drive from the Fig Garden Golf Course and the Island Waterpark. For the benefit of business travelers, the hotel provides a well-equipped business center plus spacious desk/work areas in all of its guest rooms. Located on the hotel premises, Smuggler's Restaurant and Lounge serves breakfast and dinner daily.
Holiday Inn Fresno Downtown Convention Center
With nearly 15,000 square feet of meeting space and a prime location in the heart of downtown Fresno, this nine-story, 197-unit hotel is a good pick for business conferences and also convenient for visitors attending events at the nearby Fresno Convention Center. Chukchansi Park, home of the Fresno Grizzlies minor league baseball team, lies within easy walking distance of the hotel. The ninth-floor Skyroom Lounge, reserved for private events, offers stunning views of Fresno and its environs, so sneak a peek even if you're not attending an event there. The Holiday Inn's business and fitness centers are both open around the clock. Cafe 1055, the on-site restaurant, serves breakfast, lunch and dinner, and children under 12 eat free.
La Quinta Inn & Suites Fresno Yosemite
Only one-half mile from the Fresno Convention Center, this reasonably priced three-story, 129-unit hotel rolls out the welcome mat for well-behaved pets, which can stay with their owners for no additional charge. Human guests who want to stay active can work out in the hotel's fitness center or swim laps in the outdoor swimming pool. La Quinta treats guests to a complimentary Bright Side breakfast each morning but has no full-service restaurant on site. Nearby eateries include El Torito and International House of Pancakes.
Radisson Hotel & Conference Center Fresno
At the high end pricewise of downtown Fresno's hotel offerings, this eight-story, 321-unit hotel is also the largest. Built around a soaring atrium with a three-story waterfall, the Radisson is only steps from the Fresno Convention Center and offers more than 27,000 square feet of meeting space. High-speed Internet is available in all of the hotel's guest rooms and suites, as well as its common areas, including the business center. Recreational facilities include a 24-hour fitness center and a heated indoor/outdoor swimming pool. The International Cafe, tucked into a corner of the atrium's courtyard, serves breakfast, lunch and dinner, and the Java Stop, just off the lobby, offers Starbucks coffee and pastries. Guests who are on the go can pick up a pizza from the in-house Pizza Hut.