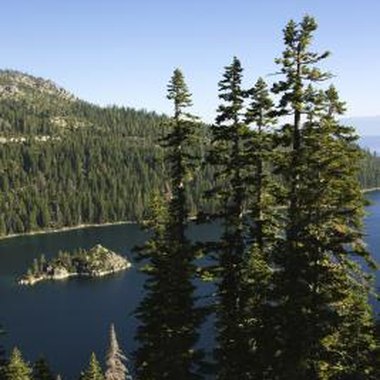 Avid snorkelers become very entrenched in the culture, discovering new places and advancing their skills. They even plan their vacations around diving locations and California has several well-loved diving spots, on the coast as well as inland lakes. If you're traveling to California or if you've already exhausted all of California's coastal dive spots, it's time to consider visiting the fresh water spots.
Where to Go
Most of California's lakes can be snorkeled in but there are a few lakes where the diving is most rewarding. Some snorkel dive companies will even help you plan your trip and provide the transportation. Sierra Dive Center takes snorkelers to Rubicon Point and Emerald Bay, both located in Lake Tahoe. The Merced River of Yosemite National Park has several areas suitable for snorkeling, though visitors should be aware that the park strongly recommends life vests be worn as there are no life guards on duty. Manchester State Park has two snorkel-worthy areas, Brush Creek and Alder Creek.
What You'll Need
To snorkel in California's fresh water lakes, you will need the same gear as when you snorkel in the ocean. A snorkel, a mask and fins (or flippers). Optional gear would include a life vest or a wet suit to stay warmer during the winter months. From February to March, the lake waters in California can reach temperatures of 40 to 50 degrees near the surface. If the lake waters are particularly clear, as they are from August to October, you may want to bring an underwater camera.
What You Will See
You may not be able to see as clearly as you can in the ocean but fresh water snorkeling in California offers plenty of interesting underwater sights and scenes. In most fresh water dive spots the foliage is thick and plentiful and there are plenty of lake trouts and steelhead fish to spot just under the surface.
When to Go
Consider the weather conditions in California before you plan your dives. The best months to snorkel are August to October, when the weather is warm. May to July has temperatures from 50 to 70 degrees. July to October has a lot of clear days with temperatures between 70 and 80 degrees. November to April is much cooler and often rainy and therefore not great snorkeling weather.
Photo Credits
Thinkstock/Comstock/Getty Images