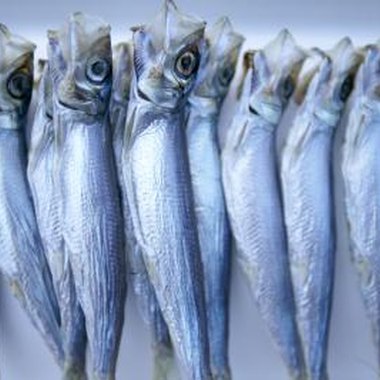 Commonly used for bait, shad are tiny fish with a big purpose. Whether you caught them or bought them, they can't simply chill in your tackle box until the next opportunity to hit the lake comes about. Freezing the little fish is perhaps the most effective method for preserving them for the long term. The benefit to freezing shad becomes more apparent when you don't have to stop for bait next time the lake beckons.
Items you will need
Bucket

Ice cubes

Rock salt

Mesh or wire rack

Paper towels

Newspaper

Freezer bag

Marker
Step

1
Place the shad into a bucket of ice cold water if they aren't in one already.
Step

2
Dump 1/4 cup of rock salt into the water per 1.5 lbs. of shad and leave them to soak for at least an hour. The salt helps to toughen them up.
Step

3
Remove the shad from the water and set them onto a mesh or wire rack to allow them to drain.
Step

4
Pat the fish dry with paper towels and set them onto a piece of newspaper while you dry the others.
Step

5
Place the shad into large freezer bags, making sure not to stack them on top of each other.
Step

6
Seal the bags tightly and write the date on them with a dark-inked marker.
Tips & Warnings
Use or discard the shad within a year.

Discard shad that are ripped and mangled, as they won't be as effective for bait as whole shad.
Photo Credits
NA/Photos.com/Getty Images