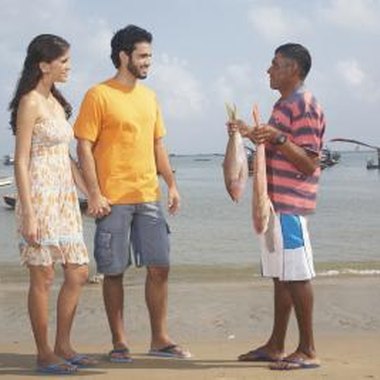 Mullets are saltwater fish that live in the warm water of the Gulf of Mexico. These fish can grow up to 20 inches long and can be consumed by humans. The eggs of the mullet are popular in Asia and are commonly exported there from Florida. Another popular use of mullet is as bait. If you have a good catch of mullet and want to preserve them for your next fishing trip, brine them in salt and freeze in plastic bags.
Items you will need
5-gallon bucket

2 lbs. salt

Large, resealable freezer bags

Large bag ice
Step

1
Fill the 5-gallon bucket up with saltwater.
Step

2
Add 2 lbs. of salt to the bucket.
Step

3
Place a large bag of ice in the 5-gallon bucket to keep it iced down.
Step

4
Place the mullet in the bucket and let them soak overnight.
Step

5
Take the mullet out and place in large, resealable plastic bags. Fill each bag with 2 to 3 lbs. of fish.
Step

6
Place the bags in the freezer.
Photo Credits
Kim Carson/Photodisc/Getty Images