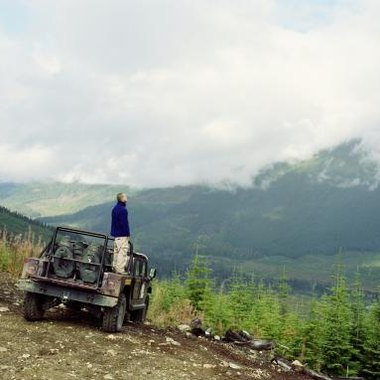 You will not need a four-wheel drive vehicle in Yellowstone National Park. Although there are a few gravel roads in the park, all are accessible by car. No four-wheel drive trails exist inside of the park. But if you want to experience the spectacular backcounty of the mountain ranges that are inaccessible by car, you will find plenty of 4WD trails just outside of the park in all three states bordering the park.
Getting There
All of the border states, Idaho, Montana and Wyoming, have 4WD trails that lead to spectacular features and scenery. Trails can be extremely interwoven, making it easy to become lost. It is advisable to purchase a detailed map from the Bureau of Land Management or or U.S. Forest Service before venturing onto the trails. Make sure your map is up to date and that you understand how to read it. Trail systems change over the years, and old maps might be inaccurate. If you do not own your own vehicle, towns near each of the park gates have facilities where you can rent vehicles.
Laws and Trail Closures
All-terrain vehicles and off-highway vehicles laws constantly are changing. Before you venture out on off-road trails, make sure you know what the state's laws are regarding four-wheel vehicles You might need a permit or special vehicle tags to operate a vehicle in the region you want to explore. Because OHV and ATV vehicles can be disastrous for ecology, laws in most states restrict vehicles to existing trails only. Find out about trail closures before you go, too. Trails close periodically where ecology or the trail itself is damaged. It can be frustrating to get to a trail only to find it closed.
The Terrain
The terrain near the park is similar to the park itself in all three border states. Roads can become impassible very quickly in rain. Unexpected snowfall in spring and fall is not uncommon. When riding on trails next to mountainsides, it is important to watch for falling rock and slides. Steer clear of bears, rams, moose and other large wildlife. They might attack your vehicle and move extremely quickly when provoked. Make sure to take spare tires and know how to change them. There are often sharp rocks on trails that can cut or puncture them.
Hiring a Guide
Those who do not own a vehicle or are inexperienced in driving one in rugged mountain terrain can purchase guided tours at any of the towns bordering the park. You can get private tours or join in with a larger group. You can tour as a passenger in a jeep or drive your own four-wheeler ATV with a guide leading the way. These tours can be expensive, running as high as several hundreds of dollars per person depending upon the type of tour you choose. Guided tours are well worth the money spent, though. Guides make the adventure safe and know interesting facts about the geology and inhabiting species that you might otherwise not learn.
Photo Credits
Mike Powell/Digital Vision/Getty Images