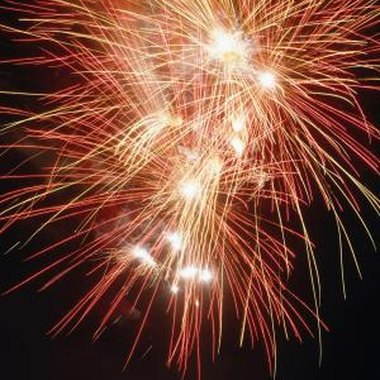 With brilliant fireworks bursting across the night sky and the smell of barbecued food lingering in the air, its no wonder that many Americans love to celebrate the Fourth of July. Ocala, Florida, hosts a variety of Independence Day festivities to keep this American holiday full of fun and remembrance for the roots of our nation.
Festivals
On Independence Day weekend, Ocala's parks and public spaces burst with a number of festivals to enjoy. Patriots in the Park (no website; 701 NE Sanchez Ave., Ocala; 352-304-6170), hosted by the Marion Count Veterans Helping Veterans in Tuscawilla Park, is a fun festival that also helps raise money for the organization's food pantry. At this festival, you can take part in pie-eating contests, shop around vendor's stands and enter to win prizes in raffles. On July 4th, God and Country Day (no website; Corner of Highway 27 and County Road 225A, Ocala; 352-566-6623), sponsored by the Ocala Jaycees, is Marion County's largest Fourth of July celebration. Head to the Golden Ocala property for traditional fairground games, carnival rides, face painting and plenty of food, from grilled burgers to fried dough.
Music
The Fourth of July celebrations in Ocala feature a wide range of musical acts, from rock, to country, to big bands. The Red, White and Blues Festival (no website; Downtown Square, Ocala; 352-629-8444) showcases a number of blues bands, such as Keith Caton and the Accelerators, who put on a free show. Those craving the twang of country music can pull on their cowboy boots and head over to God and Country Day (no website, Corner of Highway 27 and County Road 225A, 352-566-6623) to hear country bands such as the Shane Wooten Band.
Fireworks
A Fourth of July celebration is not complete without an impressive array of fireworks. In Ocala, flocks of celebrators head to the Golden Ocala property to watch the sky light up with fireworks at God and Country Day (no website; Corner of Highway 27 and County Road 225A; 352-566-6623). Families looking for a less busy, family-friendly environment can watch fireworks at the Church at the Springs Freedom Fest (no website; 5424 SE 58th Ave., Ocala) after enjoying an evening of bounce houses, water slides and games.
Other Events
During the Fourth of July weekend, friends and families line the streets of nearby counties to watch parades that celebrate our country's birthday. They watch as veterans, high school bands, scout troops and floats made by businesses and organization make their way down historic Cholokka Boulevard in nearby Micanopy's Independence Day Parade (no website; Cholokka Blvd., Micanopy; 352-466-3121). Those who wish to celebrate the holiday while promoting a good cause can participate in the Ocala Freedom Run (no website; Veterans' Memorial Park; 2601 E. Fort King St., Ocala; 352-629-9682). The 4-mile run provides an energetic way to start the day and helps raise money for the Veterans' Park.
Photo Credits
Ablestock.com/AbleStock.com/Getty Images