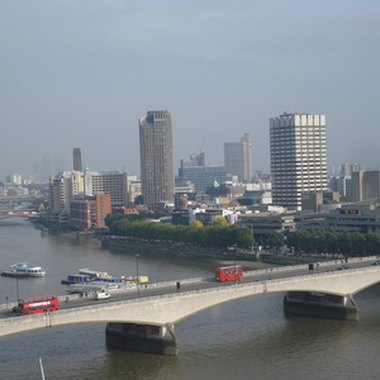 The rating scheme administered in the United Kingdom by the Automobile Association and Visit Britain is based on provision of facilities and services and may have no clear relationship to subjective expectations of quality or luxury. Since the star rating scheme is voluntary, a few London luxury hotels have no stars at all. London's four-star hotels range from good quality business hotels to luxury establishments full of character and special interest.
The Tower Hotel
The Tower Hotel is a modern luxury hotel commanding dramatic views of the Thames, Tower Bridge and St. Katherine's Dock. The hotel has 801 guestrooms, suites and apartments, including 89 standard and deluxe singles. The 18 suites and apartments all have separate, kitchenettes for longer stays. The Tower promotes itself as a conference venue, close to the City of London financial district. It has 19 conference, meeting and function rooms, the largest of which can accommodate 600 people.
The Cavendish London
The Cavendish, built in the 1960s, occupies the Jermyn Street site, at the corner of Duke Street St. James's, once owned by the legendary hostess and hotelier Rosa Lewis, inspiration for the "Duchess of Duke Street." Jermyn Street, home to most of London's bespoke shirtmakers and men's shoemakers, is a quiet enclave just around the corner from the lights and nightlife of Piccadilly and the theater district. Guestrooms have modern or contemporary furnishings in neutrals and earth tones as well as bathrooms by Villeroy & Boch.
The Park Inn Russell Square
Park Inn Hotels is an international brand of budget to moderately priced hotels, usually located in city centers or near airports. Their Russell Square hotel is in a neighborhood popular with tourists for its affordable accommodations and proximity to top attractions such as the British Museum, the literary landmarks of Bloomsbury, Covent Garden, and the theater district. Standard rooms are furnished simply with blond wood furniture and textiles in bright, primary colors. This hotel has a few family suites equipped with kitchens and washer/dryers for longer stays.
The Crowne Plaza London Docklands
This is a modern business hotel. Rooms are comfortable, with high quality beds, upholstered chairs and good work space, but they are quite plain. Unusually, for a hotel so clearly geared for business visitors to Canary Wharf and the Docklands exhibition center, ExCel, rooms have broadband connections but no wireless Internet. The hotel's health and fitness center, available free to guests, has good facilities for unwinding, including a heated pool, whirlpool bath, sauna, eucalyptus steam room, gym and various treatments. A frequent, free shuttle runs between the hotel and Canary Wharf.
Resources
The Cavendish London; 81 Jermyn Street; St James's; London SW1Y 6JF; 011-44-20-7930-2111
Crowne Plaza; Royal Victoria Dock; Western Gateway; London E16 1AL; 011-44-20-7055-2000