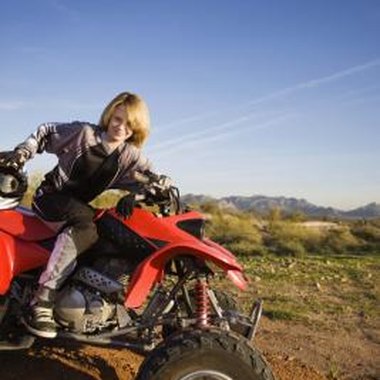 South Carolina's state and national parks, as well as some privately owned land, are equipped with four-wheeler trails. South Carolina's four-wheeler trails cater to all types of off-road vehicles, like all-terrain vehicles, four-wheel drive sport utility vehicles, dirt bikes and more. Permits and passes are required at most state and privately run trails and parks, so be sure to file the proper paperwork and payments before embarking on your exciting off-road journey.
Cedar Springs OHV Trail
The Ceder Springs Off Highway Vehicle trail (no website; 810 Buncombe St., Edgefield; 803-637-5396) is located in the Long Cane Ranger District of Sumter National Forest. Four wheeler all terrain vehicles (ATVs) and motorcycles are permitted on the trail, but larger jeeps and sport utility vehicles (SUVs) are not. All levels of rider can use the Cedar Springs trails, as they cater to both experienced and beginner riders. A maximum vehicle width of 50 inches is in place. The trails open on the last Friday in March and close the first Monday in January. A $5 per day fee exists for each vehicle brought onto the trails.
Enoree OHV Trail
The 23-mile-long Enoree OHV Trail (no website; 3557 Whitmire Highway, Union; 864-427-9858) caters to ATV and motorcycle riders with vehicles under 50 inches in width. Day passes, per vehicle, cost $5, while season passes cost $50. The trail is composed of a mixture of sand and Piedmont clay. The Enoree trails close annually from January to the end of March, in order to protect riders from dangerous winter conditions. The trail system is composed of multiple connected loops that allow a rider to choose ride length.
Manchester State Forest OHV Trail
The Manchester State Forest OHV Trail system (no website; 6740 Headquarters Rd., Wedgefield; 803-494-8196) is composed of natural trails that cut through the Manchester State Forest. Inside the Manchester State Forest are many interconnected loops for riders to use during the spring, summer and fall seasons. Riders are required to purchase a permit to ride the trails. Helmets and spark arresters are also required to ride the trails. The OHV staging area is located at the southern end of the park, in Pinewood.
Parson's Mountain OHV Trail
Parson's Mountain OVH Trail (no website; 810 Buncombe St., Edgefield; 803-637-5396), part of the Sumter National Forest, is a roughly 11-mile-long natural, packed clay and gravel trail system designed for dirt bikes and ATVs. Parson's Mountain trail is open from the end of March to the beginning of January. Like the other Sumter National Forest trails a daily usage fee of $5 is required for each vehicle on the trails, with season passes available for $50.
Gulches Off Road Vehicle Park
The Gulches Off Road Vehicle Park (gulchesorvpark.com) is a privately owned 80-acre off-road vehicle park that admits four-by-four trucks and SUVs, ATVs, dirt bikes and any other type of off-road vehicle. The park costs $25 dollars per day, per vehicle. There are multiple trails and runs, each individually marked by varying degree of difficulty. The park is located in Laurens County.
Resources
Photo Credits
Jupiterimages/Brand X Pictures/Getty Images