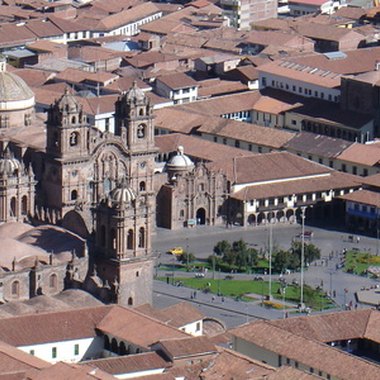 The spectacular city of Cuzco, the old Inca capital and the gateway to Machu Picchu, is home to a handful of five-star hotels and a greater number of four-star options. The star rating system in Peru is not exactly set in stone, and does not necessarily guarantee a faultless experience. However, a number of top-end Cuzco hotels continually keep one step ahead of the competition.
Hotel Monasterio
The centrally located Hotel Monasterio is a spectacular and historically significant Cuzco hotel. The five-star hotel occupies a former monastery, originally built in 1592 upon the foundations of an Inca palace. It was converted into a hotel in 1995, the construction project tastefully retaining the building's historical charm and feel. The Frommer's website boldly labels Hotel Monasterio as "Peru's most extraordinary place to stay." Courtyards, stone arches and impeccable gardens create an air of elegance amidst Cuzco's ancient Inca heritage. You will be hard-pressed to find a more luxurious and relaxing base from which to explore the numerous attractions of the Inca capital.
Libertador Palacio del Inka Hotel
The five-star Libertador Palacio del Inka Hotel is located right at the heart of Cuzco's historic center. The hotel sits on the Plazoleta Santo Domingo square, just across from Koricancha, the Inca Temple of the Sun. The building mirrors its surroundings, a mix of colonial and Inca architecture, bold stonework and elegant designs. Peaceful courtyards with Spanish-style fountains combine with spacious, elegant colonial rooms to give the Libertador a special ambience. The hotel's Inti Raymi restaurant is expensive but creates some truly spectacular dishes in the traditional Andean style.
Picoaga Hotel
Located on a cobblestone street just off Cuzco's main square, the Picoaga Hotel is a four-star hotel destined for one more star. The colonial courtyard has some nice modern touches, while the hotel interior has a warm and inviting feel. The rooms are elegant but some of the decorative details may not appeal to all guests. The tiled bathrooms, however, are perfectly appointed. The warm, efficient and friendly staff compliments the hotel's overall tone of relaxed gracefulness.
Inkaterra La Casona Hotel
The Inkaterra La Casona luxury boutique hotel was one of only two Peruvian hotels to feature in the Condé Nast Traveler Hot List Hotels 2009 selection. "This sprightly newcomer might well steal the spotlight from the Hotel Monasterio," says Condé Nast's Concierge.com website. With only 11 suites, La Casona now finds itself in extremely high demand. Situated near Cuzco's main square, the hotel mixes Inca and colonial styles with modern touches. Antique furniture and Andean crafts mix effortlessly with hi-tech touches in every room such as individually heated floors, Wi-Fi and flat screen TVs. An excellent restaurant and attentive, personalized service complete the overall picture.
Photo Credits
view of cusco square, peru image by TOBY WILLCOCKS from Fotolia.com