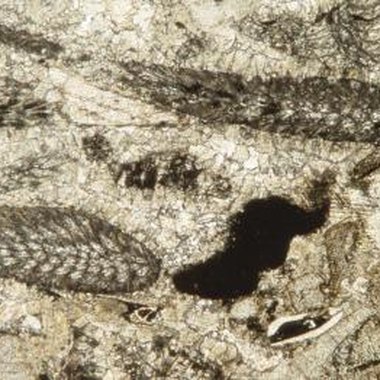 Searching for fossils is a challenging and fascinating pastime for many rock and fossil collectors in Georgia. There are many areas rich in detailed and amazing fossils but you have to be willing to leave the comfort of your own backyard to find the highest-producing sites in the state. Fossils give the collector insight into the environmental composition and maritime life of Georgia thousands of years ago when it was completely blanketed in water.
Types of Fossils
The state of Georgia was once part of an ocean, which is evident in the extensive marine life found immortalized in stone. Fossils such as shells, fish spines, stingray dental plates, whale inner-ear bones and coral have been discovered in various locations in the state, but the most prized finds are the shark teeth that are known as the official state fossils. The teeth of sharks such as the hammerhead, white or tiger shark withstand the test of time because they are so much harder and denser than shark cartilage and other parts of the fish.
Locations
Fossils can be found at excavated sites, river and creek beds, beaches and in farm fields. Limestone quarries are also good locations for fossil digs. Northwest Georgia hosts an abundance of marine life fossils in areas such as the Durham Road mine dumps near the intersection of state Highways 157 and 189, or the Interstate Highway 24 limestone road cuts. One way for a beginning fossil hunter to learn about stone and fossils is to join a rock and mineral group, such as the Georgia Mineral Society. Members attend meetings and go on field trips to both popular and lesser-known fossil sites.
Tools and Methods
The tools for locating fossils are very simple and relatively inexpensive. The most basic but necessary tool to dig into the various types of Georgia soil is an ordinary shovel. Hammers, chisels and picks can be used to locate and extricate the fossils. Brushes remove dust and particles from the finds. Other needs may include glues, heavy-duty bags, padded boxes and heavy-duty plastic bags of various sizes. Hunting for fossils is tedious and backbreaking work, but very rewarding if fossils are located. Care must be taken during digging to prevent damage to specimens and heavy tools are exchanged for smaller, lighter, less damaging ones when fossils are close to the surface.
Fossil-Hunting Etiquette
Always obtain permission from Georgia landowners and companies before digging. Many businesses and individuals generously open their properties to fossil hunters, as such the limestone quarries near Clinchfield on the Fort Valley Plateau. Landowners allow visitors to search freely for specimens, so it is important to respect the property guidelines. Follow all safety rules -- some sites may require visitors to sign an agreement on safety policies. Be sure to dress appropriately with steel-toed boots, hard hats, goggles, high-visibility jackets or vests, and heavy-duty clothing. Always return the site to its natural state and remove any trash before departure.
Photo Credits
Hemera Technologies/Photos.com/Getty Images