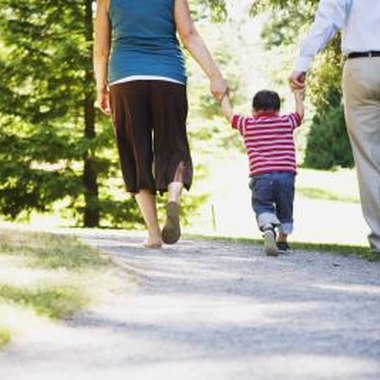 Fort Collins, Colorado is located along the northern Front Range and is home to Colorado State University. The Cache La Poudre River, or Pourdre, flows from the Rocky Mountains west of Fort Collins, journeys through the city and eventually joins with the Platte River east, near Greeley. Approximately 300 days of sunshine grant outdoor enthusiasts many opportunities for walks. Over 20 miles of maintained walking trails lie within Fort Collins' borders.
Poudre Trail
Poudre Trail follows the Poudre River for 10 miles. Beginning at the Overland Trail in Lyons Park, the trail makes its way through Fort Collins and ends at the Learning Center on East Drake. As of 2011, plans are in place to expand the trail until it hooks up with the Poudre River Trail's western edge in Windsor.
Spring Creek Trail
Spring Creek Trail meets the Poudre Trail at the confluence of Spring Creek and the Poudre River. The 6-mile trail winds through many parks, including Spring Canyon Community Park. Once you reach the park, you can take the 7-mile trail going through Pineridge Natural Area.
Fossil Creek Trail
Cathy Fromme Prairie is a natural dry land and wetland area set aside to provide a habitat for native plants and animals. Fossil Creek Trail begins at Cathy Fromme Prairie and extends 2-1/2 miles between Luther Lane and Shields St.. Connection of the trail to Spring Creek Trail should be finished in 2011. Upon completion, an extra 2-1/2 miles of trail will be added to the existing trail.
Mason Trail
The Mason Trail is an efficient means to get pedestrians to major destinations along the 3-1/2-mile north/south route through Fort Collins. The trail will eventually link downtown Fort Collins, Colorado State University and Foothills Mall. The trail will connect with all three major east/west trails---Poudre Trail, Spring Creek Trail and Fossil Creek Trail. The trail runs parallel to the MAX Bus Rapid Transit system. As of 2011, the trail has been completed from Fossil Creek Trail to Prospect Road.
Safety Precautions
Since trails are open year-round, plan for all weather conditions, including rain and snow. Watch for ice along the trails in the winter. Pets must be leashed at all times and waste picked up. Always stay to the right on the trail, since you share the road with bikers. Be aware that rattlesnakes are common on many trails in the summer and take precautions against mosquitoes. Obey all signs and barricades. Wear fluorescent clothing and carry a flashlight if walking at night or in the early morning hours.
Photo Credits
Jupiterimages/Brand X Pictures/Getty Images