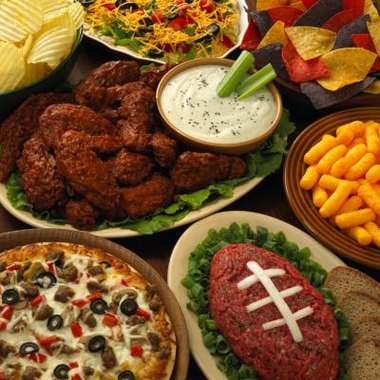 Your sports fan has a birthday coming up and football is the game of choice. With 12 guests on the list, you can plan a Super Bowl party complete with tailgating and a friendly game of 6 on 6. Let your guests know by sending out football invitations complete with custom wording.
Basic Wording
Every invitation has to have a date, time and location. Replace these basic wordings with catchy football phrases. Use "Game day" instead of "date" and "Kickoff starts at" instead of "time." You can even get creative with "Location" by using a phrase like "Home game" if the party is being held at your house, or "Away game" followed by the address if the party is being held at a different location. And let's not forget the man -- or woman -- of the hour. Let all your guests know who the party is for with a phrase like, "Help Lance Kick Off His 30th Birthday," or "Its Game Time! Lucy's Turning 30!" Turn the host into "Coach" for the R.S.V.P.
Draft Your Players
Customize your football invitations even more by planning a game of 6 on 6. Use some of the basic invitation information to give the game a name: "Lance's 30th Birthday Super Bowl Game," or "Lance's 30th Annual All Star Game." Use the guest's name in a phrase like, "Bill Case, center out of Kansas City, Missouri has been drafted by Lance Smith to play in the 30th Annual All Star Birthday Game held at Smith Home Field in Overland Park, Kansas on July 25th," to address the invitation and provide the necessary information.
Pick a Team
Customize your invitations even further by using words and phrases from a favorite team. For the Cowboys fan, you might say, "How 'bout Them Cowboys." Work "Cheese Head" into your Greenbay Packers fan invitation. Go a step further by highlighting a rivalry, using phrases like "Border War" (Missouri vs. Kansas) and "Farmageddon" (Iowa State vs. Kansas State.) "Raider Hater" is also a good one for the Kansas City Chiefs fan. Work the rivalry into the party in a game of 6 on 6 and make sure you let guests know on the invitation which team they'll be playing for: "The KU Jayhawks have drafted center Bill Case to play in the Lance Smith Border War Birthday game on July 25th."
Other Phrases and Wording Suggestions
Try working in your favorite college team's fight song or battle cry. For example, a Texas Long Horn fan invitation could say, "Lets Give 'Em Hell at Lance's 30th Birthday Celebration." Use a phrase like "Uniform Required" if you want your guests to wear a jersey, and try incorporating other football terms like "blitz," "yard line," "end zone," "field goal" and "touchdown."
Photo Credits
Jupiterimages/liquidlibrary/Getty Images