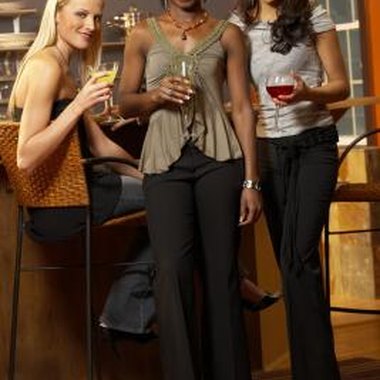 Girls love having all-girls parties. At age 8, it's all-girls birthdays; at age 15, slumber parties; and at age 25, girls' night in cocktail hours. Whatever the occasion and whatever the age of the guests, it's important to have enough food and snacks on hand to keep everyone well fed and happily munching. While younger guests are easily pleased, older guests might be weight- or health-conscious and somewhat pickier.
Drinks
For younger children or teenagers, juice and soda will suffice for drinks. Mix up some homemade punch for a special beverage. For a "girls' night in" or cocktail party for women, consider making some trendy cocktails, such as pomegranate or lychee martinis, or anything sweet, colorful, new or with champagne. Stay away from boring drinks or anything that tastes strongly of liquor. Novelty cocktails are sure to be a hit with female partygoers. Just be careful with the amount of alcohol you use; no one wants to deal with the drunk friend all night.
Appetizers
The younger set doesn't really need a set appetizer; they're happy to chow down all night long. However, teens and kids will love chips and dip or nachos and salsa before their dinner. Women might be a little harder to please, especially as plenty of them may be watching their figures. Creamy dips and mixed vegetables are a simple pre-dinner snack. Replace store-bought dip with homemade spinach or artichoke dip for even more flavor. If you don't mind a little hard work, consider some true hors d'oeuvres, like flatbread with toppings such as prosciutto, cheese, olives, peppers and fish; crab cakes, tartlets, or roasted and spiced nuts. If you are feeling lazy, grab a pre-made shrimp cocktail and cheese straws from the store. How elegant you want to be is up to you.
Main Dishes
Kids aren't terribly picky about their food, especially if it's traditional party fare. Along with pizza, burgers and chicken nuggets, consider offering some healthier options. Veggie platters or fruit kebabs are a good way make sure the girls aren't eating too unhealthily and no one gets sick. Teens might be interested in making their own food, so offer some "bars," where girls can customize their own dinners. Taco, burger and baked-potato bars are simple and can be prepped before the party. Unless you're throwing a dinner party, cooking a full meal is a little much, even if your guests are older. Instead, consider preparing plenty of finger foods, such as mini-quesadillas and quiches. Offer a salad with homemade vinaigrette as accompaniment, along with plenty of good bread.
Desserts and Treats
An ice-cream sundae bar is an ideal dessert option for the younger crowd. Set out toppings in small bowls and give guests their choice of ice cream flavors. It's a good idea to have cupcakes, cookies or candy on hand for all-night snacking. Dessert is not an easy meal for the older set, who might be wary of fat and sugar. Finger food is the way to go, allowing guests to eat as much or as little as they please. Mini-cupcakes, cheesecakes and lemon bars are sure to be a hit, especially if some of the treats are chocolate!
Photo Credits
Jupiterimages/Photos.com/Getty Images