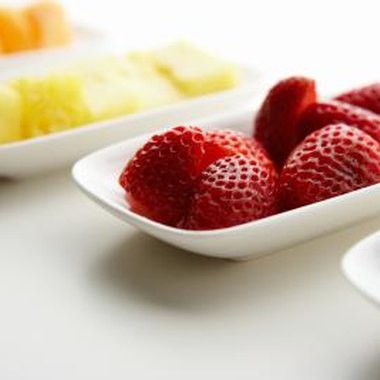 The surf might be up, but kids still get hungry. At a surfing party, they want to nibble and run. Feed them light but fueling foods whenever they return to the beach for a break. Protein-packed finger foods keep them energized without the fuss of a full-plate meal. A variety of small snacks on offer throughout the day keep them satisfied without bogging them down on their surfboards.
Muffins and a Smoothie
Create a muffin and smoothie stand with a chalkboard menu listing the available items. Offer banana, peaches and cream, blueberry, strawberry, pineapple, and chocolate chip muffins. Pre-make smoothies at home and transport them in metal thermoses packed in ice. Encourage the kids to mix and match mango, orange, raspberry, vanilla, chocolate, kiwi-strawberry and lemon smoothies. For example, combine vanilla and orange smoothies in a cup to create an orange cream-flavored smoothie.
Grilled Food
Set up a grill on the beach and cook marinated chicken kabobs, corn on the cob, and pineapple and pound cake skewers. Let the kids decide if they want a full plate or would rather grab a skewer while putting their feet in the water. Wrap cooked shrimp or teriyaki beef in flat bread, and fill individual containers with fruit salad or mango couscous. Offer kids pineapple juice, bottles of water and fruit punch to drink.
Burritos and Wraps
Before you hit the beach, make burritos or wraps. Cook black beans, chicken and rice and combine it all in a burrito. Package the burritos individually in aluminum foil for insulation and transport them to the beach in a cooler. When you get there, set up your grill with the charcoal to the edges. Stack the wrapped burritos in the center to avoid the direct heat put out by the coals. For wraps, fill lettuce leaves or tortillas with grilled chicken, apple slices and cheddar cheese or use deli-sliced turkey, avocados and tomatoes as a filler. Roll the wraps and secure them with plastic wrap. Line a cooler with frozen gel packs and pack the wraps inside. Avoid opening the cold cooler as much as possible. Offer kids small bags of fruit and ice tea or water to drink.
Snack Packs
Build a snack pack for each surfer. Fill it with fresh fruits like kiwi, strawberries, a banana, grapes, pineapple pieces and fresh vegetables such as carrots, celery, tomatoes, cucumbers and broccoli. Add granola bars, peanuts, almonds or walnuts and individual containers of hummus, ranch salad dressing and peanut butter. Finish the boxes with surfboard shaped cookies and a bottle of both apple juice and water. Bring a few jugs of drinking water to help the kids avoid dehydration.
Photo Credits
Jupiterimages/Photos.com/Getty Images