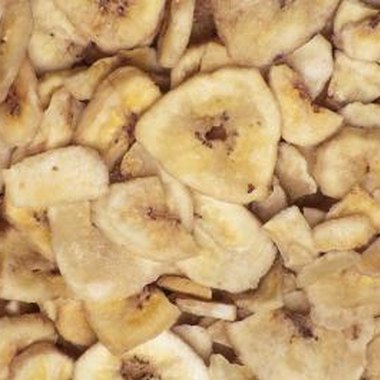 From "Tarzan" to "The Jungle Book," childhood stories are filled with romantic, exotic depictions of the jungle. Giving your child's party a jungle theme encourages creativity and exploration, regardless of age. Visually creating the jungle theme is straightforward: throw up some swinging vines, a few monkeys and a colorful bird and you've got yourself a jungle. The food portion of a jungle themed party, however, requires a little more creativity and insight.
Chocolate Pineapple
Core a fresh pineapple and slice it into small cubes. Double-boil a small pot of dark or milk chocolate and dip each pineapple chunk, as you would dip a strawberry. If the guests at your party will be older than 7, insert a toothpick into each pineapple chunk immediately after dipping. Place the chocolate-dipped pineapple chunks on a wax-paper-lined tray before refrigerating them for 20 minutes. Keep the chocolate hard by storing the pineapple tray in the refrigerator until serving time.
Jungle Dried Fruit Mix
Combine dried fruits of the jungle into a colorful, savory snack dish and serve in plastic animal-print cups. Purchase a single package each of dried mango, dried pineapple, dried papaya and banana chips. Mix equal amounts of each fruit in the cups and position them at each child's place setting before the meal or cake. Allow your child's guests to take the cups home as party favors.
"Ants on a Log"
Jungles are filled with creepy, crawly insects, and no food better captures this image than "ants on a log." Wash and cut several stalks of celery into 4-inch-long strips. Spread a tablespoon of peanut butter inside the groove of each celery stick. Natural peanut butter will work in a pinch, but the lack of stabilizers makes spreading difficult and creates a potential oily mess. Nestle small raisins or dried cranberries into the peanut butter and serve as a healthy, kid-friendly snack.
Jungle Coconut Cake
Turn your coconut cake into a lush jungle landscape by mixing one can of vanilla frosting with 1 cup of shredded coconut. Stir several drops of green food coloring into your coconut-laden frosting until you're satisfied with the color, or add a single drop of black food coloring for a deeper forest green. Spread your green coconut frosting over the cake and position several small plastic jungle animals on top, such as a tiger, a snake and a monkey.
Photo Credits
Hemera Technologies/Photos.com/Getty Images