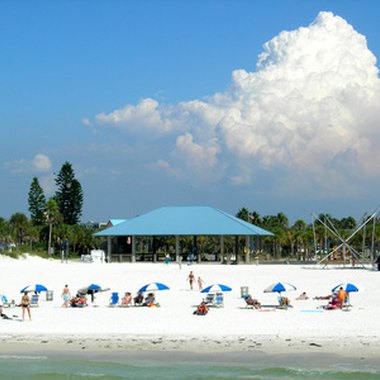 Florida offers a wide range of vacation experiences to travelers, from the family fun of Walt Disney World to the nightlife of South Beach to snorkeling in the Florida Keys. While there are many hotels and resorts in Florida to choose from, a selection of hotels that are particularly representative of their specific Florida locations and the different types of vacation these locations offer can help you get started on your travel plans.
The Delano (Miami)
Miami is a vibrant city for those who love the nightlife and there are many hotels available for people wishing to experience Miami in style. The Delano, an Art Deco style hotel, is one of these fashionable options and is credited for helping to revive Miami's South Beach and reshape the area as the party center it is today. Opened in the mid-90s, the hotel is still popular with a celebrity crowd and remains a place to see and be seen. Design is key to the Delano, which boasts an indoor/outdoor lobby, underwater music in the outdoor pool and an over-sized chessboard in the landscaped orchard. Rooms are minimalist, stark white and offer city or ocean views. The Delano's three restaurants and two bars give guests a variety of dining options, from seafood to French brasserie style cuisine. The Delano is true to its South Beach location and embodies the sophisticated, stylish and trendy attitude that South Beach has become renowned for.
Disney's Animal Kingdom Villas (Orlando)
There are several different Disney resorts and hotels to choose from on the Disney property, but if you are not limited by budget and want to experience something a little out of the ordinary, the Disney Animal Kingdom Villas may be right for your Florida vacation. The villas, which include Jambo House, a large African-style lodge, and Kidani Village, are a collection of individual lodge-style units connected by grounds which feature over thirty different species of animals roaming free on an artificial savanna. The Animal Kingdom theme dominates, from room decor that includes mosquito netting curtains to the thatched roof of the grand lobby. This does not indicate any sacrifice of modern luxuries, however, as two restaurants, a lounge, large pool area, spa and access to conveniences like Wi-Fi and concierge services represent just a few of the Disney resort's amenities. Particularly appealing to families looking for a magical, escape-from-the-ordinary vacation, Disney's Animal Kingdom Villas are a playful and adventurous part of the Disney resort chain.
Marquesa Hotel (Key West)
The Marquesa Hotel is a prime example of the classic Key West blend of old with new. The complex has remodeled four antique "conch houses" from 1884, keeping the character of the old buildings but transforming them with modern luxuries and a chic aesthetic. The Marquesa was voted onto the Conde Nast Traveler Magazine's "2009 Gold List of World's Best Places to Stay" and was ranked the number one hotel in Key West and Florida by Travel and Leisure Magazine's "T&L 500, The World's Best Hotels" in January 2008. The Marquesa is located in Old Town, one block from Duval Street and within walking distance of the ocean and public beaches. The 27-room hotel's small size may particularly appeal to couples looking for a romantic getaway in a charming and elegant setting.
Ritz Carlton, Fort Lauderdale
Fort Lauderdale's city image has transformed from spring break party town to upscale resort destination. With the city's newly sophisticated image in mind, the Ritz Carlton fits nicely into its new surroundings. Opened in 2005, the Ritz Carlton has a four star Mobil rating and a prime beachfront location. The hotel was inspired by the luxury of early twentieth century ocean liners and the decor features classic touches like mahogany furniture and private cabanas. The Ritz was voted "Top New Hotel" by Conde Nast Traveler's Magazine in 2008 and continues to stand out as one of the top luxury hotels in Fort Lauderdale. Featuring an extensive spa, ocean view restaurant, wine room and special privileges at the exclusive Grande Oaks Golf Course for guests, the Ritz Carlton, Fort Lauderdale may appeal to mature couples looking for a quiet romantic getaway.
Photo Credits
Clearwater Beach, Florida image by Andrea Gerak from Fotolia.com