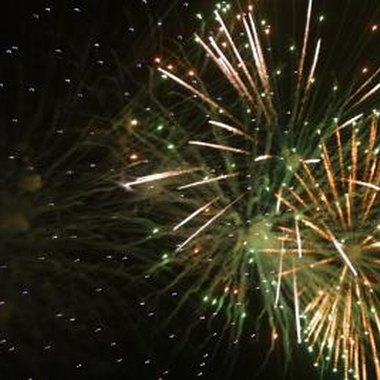 The Florida Fall Fireworks Festival, or "4F," takes place in the second week of November over a period of four days in Monticello, Florida. The Florida Pyrotechnic Arts Guild or FPAG--a subgroup of the Pyrotechnics Guild International or PGI--organizes and stages the event. During the first day, planners set up the displays and viewing stations. The second and third days include seminars, displays and demonstrations. Planners and participants use the fourth day to clean up the grounds of the event.
Pyrotechnics Guild International
Founded in 1969 to educate firework enthusiasts, PGI provides fireworks instruction, information and demonstrations to members and non-members alike. Based in Fargo, North Dakota, the PGI main headquarters distributes newsletters and pamphlets relating to pyrotechnics. Additionally, event planners organize an annual convention in Fargo featuring informational and educational seminars, sales displays and demonstrations. Additionally, subgroups or members of PGI can organize PGI-sponsored conventions that follow the same basic format and structure of the larger, central PGI conference in Fargo. As of 2011, PGI has over 3,500 members.
Florida Pyrotechnic Arts Guild
Incorporated in 1992 as a domestic nonprofit organization, FPAG serves pyrotechnic enthusiasts across the state of Florida from its offices in Palm Coast. It organizes and disseminates information about FPAG events, classes and conferences through an online newsletter accessible only with approved membership (see Resources). One of the primary functions of FPAG, according to 2011 Chairman Dennis Welch, is to organize and host the yearly "4F" for members of FPAG and the citizens of Florida.
Firework Types
4F features a variety of fireworks types, from those that do not require licensing in the state of Florida, such as sparklers and bottle rockets, to more powerful rockets and mortars. The evening show includes many Class B or display fireworks, such as one might see in a full-scale 4th of July fireworks show. It also features Class C or personal fireworks, which include smoke generators, noise-makers and smaller-sized rockets.
Events
The 4F features seminars and classes on fireworks safety and operation. Vendors set up displays and demonstrations of their products. Each night is capped off with a uniquely designed fireworks display of both Class B and Class C fireworks. Additionally, over the course of the festival, various smaller competitions--typically for Class C fireworks--are held to determine the best amateur enthusiasts.
References
Personal Interview with Dennis Welch; 2011
Resources
Photo Credits
Hemera Technologies/AbleStock.com/Getty Images