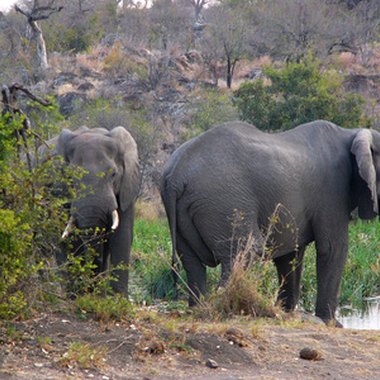 An expansive landscape comprised of 16 eco-zones, and home to more than 145 species of mammals, 500 species of birds and 2,000 species of plant life, Kruger National Park is a must see when visiting South Africa. With no shortage of five-star accommodations, most of which include daily game drives in the nightly rate, visitors can enjoy luxury in the midst of the African bush.
Londolozi
With more than 80 years in business, Lodolozi is truly the pioneer of luxury lodging in South Africa. Comprised of five intimate camps -- Founders, Granite, Pioneer, Tree and Varty -- the property is a private sanctuary bordering the Sand River. Guests can enjoy daily game drives, yoga classes, a mid-day bush walk and superb meals -- all of which are included in the cost of their stay. Posh chalets and suites offer lavish amenities, spacious rooms and stunning vistas of the surrounding bushveld.
Singita Lebombo Lodge
This elegant lodge has every world-class amenity one could want. A relaxing haven of 15 suites dressed in graceful, modern design, the Lebombo Lodge's airy accommodations harmoniously blend with nature's ebb and flow. Guests will traverse the park in Land Rovers with experienced rangers and trackers, touring a plethora of landscapes in search of Africa's Big Five. In between game drives, sojourners can go mountain biking, brush up on their archery skills, peruse the Internet or relax at the pool and spa.
Singita Sweni Lodge
Perched on stilts among the trees overlooking the Sweni River, Singita Sweni Lodge immerses its guests in the purest of tranquility. The six stunning suites have open floor plans with floor-to-ceiling glass walls exhibiting breathtaking views of the Lebombo Mountains. Outdoors showers and day beds, which lie on private viewing decks, allow guests to take in the beautiful setting day and night. Both Lebombo and Sweni lodges share Singita's "The Village" -- an art gallery, craft store, gym, spa and wine-tasting venue.
Rattray's on MalaMala
At Rattray's on MalaMala, colonial elegance meets comfort in each of the eight khayas -- Zulu for "home" -- nestled in the private reserve. The elusive leopard is easily seen on most game drives -- a rare treat for most guests on safari. The reserve stretches across 33,000 acres of undisturbed bushveld, making it one of the best spots in all of South Africa for an up-close encounter with the Big Five. Accommodations include heated private plunge pool, an indigenous private garden, double shower and claw-footed bathtub.
Photo Credits
Two elephants drinking water in Kruger PArk, RSA image by Elzbieta Sekowska from Fotolia.com