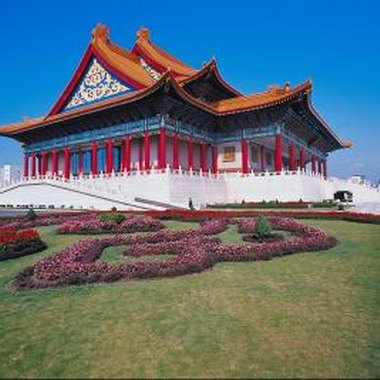 People are familiar with Taiwan's reputation as an industrial center, but this Chinese island also goes by the nickname of "Beautiful Island." Taiwan offers tourists a variety of food experiences and festivals geared to different events, such as a harvest festival. Besides its natural attractions, the island also offers tourists attractions such as the National Palace Museum.
National Palace Museum
If you're interested in art, Taiwan's National Palace Museum (npm.gov.tw/en/home.htm) is certainly a place to visit. The museum hosts a Chinese art collection that includes more than 600,000 pieces, going back as far as 5,000 years. Most of the art in the museum was originally a part of the Chinese imperial collection. The collection goes back to China's Song Dynasty.
Longshan Temple
Longshan Temple, built during the period of the Qing Dynasty, offers a taste of Buddhism. The temple, known for its decorations, has been restored a few times. There is a sculpture of the Buddha in the temple's main hall, and the temple exhibits Chinese poems. This temple, which is a historical site, has attracted vendors to its surrounding areas.
Chiang Kai-shek Memorial
Chiang Kai-shek Memorial Hall, which honors the Chinese leader Chiang Kai-shek, is built of marble with a blue tiled roof. The memorial hall is surrounded by a traditional Chinese garden with hills, ponds and waterfalls. The building, which is a landmark of Taipei City, also offers an avenue for art and music performances.
Sun Moon Lake Scenic Area
Sun Moon Lake, in Central Taiwan, is a scenic spot in the mountains. Seen from the top of Cih-en Pagoda, one part of the lake looks like the sun's disc, while another part of the lake resembles a crescent moon. Tourists take in the scenic attractions of the area while on a boat ride in the lake. During the Mid-Autumn Moon Festival, thousands of people swim from one end of the lake to the other.
Town of Puli
The town of Puli in central Taiwan is at the geographic heart of the country. The town is famous for its springs and archaeological findings. Archaeologists have discovered artifacts, ancient buildings and pottery in this town dating back to the Shuiwaku and Damalin cultures. Tourists may look at Puli's ancient trails or visit one of its many monasteries
Photo Credits
Jupiterimages/Photos.com/Getty Images