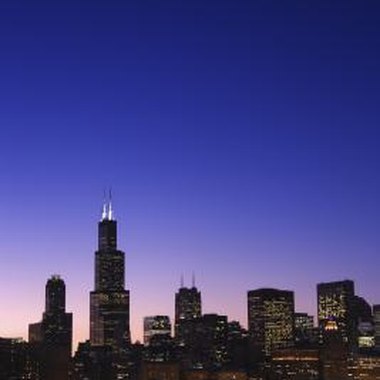 The state of Illinois is comprised of 57,918 square miles, and it is bordered on the northeast by Lake Michigan, which is 22,400 square miles in size. So there is no doubt about which lake in Illinois is the major lake. However, for lake-goers headed to Illinois who may not be equipped or inclined to take on the big waters of Lake Michigan, there are four other inland lakes that take the second, third, fourth and fifth place categories.
Lake Michigan
The portion of Lake Michigan that joins with Illinois has one really big attraction, named Chicago. Aside from the shorefront entertainment in the Windy City, there are beaches along Lake Michigan and dozens of professional fishing charters ready to put you onto their best steelhead and coho salmon holes. Montrose Beach is the largest beach in Chicago, with every amenity and generally a large supply of students from Northwestern University. Just north of Chicago is Illinois Beach State Park.
Tri-Lakes
Along the Illinois River from Peoria to Hennepin, there is a chain of three lakes that are functionally one long lake. Connected by short channels, they are Peoria Lake, Goose Lake and Senachwine Lake. These are natural riparian lakes created during the glacial era, and not made by dams on the River. They are popular among local boaters and fishermen, and in various times throughout the year, they yield largemouth bass, smallmouth bass, catfish, walleye, lake trout and crappie. Senachwine Lake has a boat ramp in the town of Putnam, Goose Lake has boat access from the Cameron National Wildlife Refuge and Peoria Lake has numerous access points along North River Beach Road and in Chilicothe.
Carlyle Reservoir
Near the town of Carlyle, there is a giant spillway and dam that have created the largest manmade lake in the State of Illinois: Carlyle Reservoir, with more than 26,000 acres of surface water. The Reservoir is only 50 miles from St. Louis, and while it is well-known as a fishing lake, it also is a hotspot for inland sailing and hunting waterfowl. Bass, bluegill, crappie, catfish, walleye and sauger are on the fish menu, and hunters can take both waterfowl and land game at specified areas during regular hunting season. There is boat access in Carlyle and at Hazlet State Park.
Rend Lake
Rend Lake was originally built by the U.S. Army Corps of Engineers to provide a domestic water supply for two counties. Now known for its crappie and catfish fishing, as well as the Rend Lake State Fish and Wildlife Area, the 18,000 acre lake is adjacent to four towns: Rend City, Whittington, Nasin and Ina. Like Carlyle, Rend Lake is well thought of by waterfowl hunters. Each town has boat access, and there are several campsites near the lake.
Lake Shelbyville
The Shelbyville Dam near Shelbyville, Illinois blocks the Kaskaskia River to make the 11,000 acre Lake Shelbyville. There are three marinas in Shelbyville to gain access to the lake, as well as lake access from the Kaskaskia River National Fish and Wildlife Refuge on the northeastern end of the lake. Federal, state and private campgrounds dot the shore, and Lake Shelbyville is a big favorite among anglers. Bassmaster Magazine called it one of the best bass holes in Illinois.
Photo Credits
Thinkstock/Comstock/Getty Images