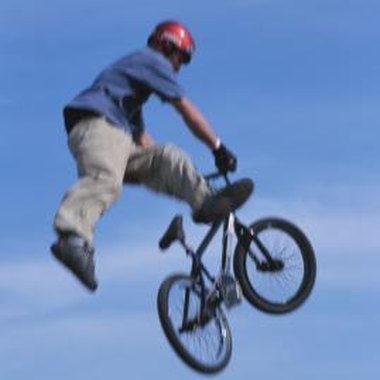 Your BMX bike's headset eventually will weaken due to the abuse it takes from mud and water off the rear of the front tire. BMX bikes also absorb the constant vibration from riding over rough terrain and landing after jumps. Over time, the bearings in your headset will fail and the handlebar will be hard to turn in either direction. You can replace your headset with a new one. Bicycle shops sell headset kits that include all of the components needed for your installation.
Items you will need
Allen wrench

Headset kit including: 2 bearings, wedge race, dust cover, 3 spacers and headset compression bolt
Step

1
Press each of the two bearings into the top and bottom of your head tube frame. Press them into the frame so they sit evenly and inside of the frame.
Step

2
Insert the fork through the head tube bottom. Hold the tire and fork with one hand and center the head tube over it. Press the fork up into the head tube. The bottom of the head tube will sit on the race of the fork.
Step

3
Place the metal wedge race over the top of the fork tube and into the head tube top. Insert the dust cover over the top of the fork tube and press it down onto the metal wedge race.
Step

4
Sit on the saddle of your bike with both feet on the floor to hold the bike steady.
Step

5
Place one or two spacers on the top of the headset tube.
Step

6
Use an Allen wrench to loosen the left and right bolts on your handlebar stem. Slide it down over the top of the fork and press it down as far as it will go.
Step

7
Observe the side of the handlebar stem. There should be no open area between the dust cover, spacers and the stem. If there is space, pull the handlebar stem off and add an additional spacer. Check the area again. Add a spacer on top of the fork if there is an open area between the fork top and the headset.
Step

8
Insert the headset compression bolt on top of the headset opening. Turn the compression bolt clockwise by hand to tighten it. This bolt applies downward pressure on all of the spacers and the headset to keep them in place and compacted.
Step

9
Straighten the handle bars so they are horizontal in front of you and the center of the headset aligns with the center of your front tire.
Step

10
Tighten the bolts with an Allen wrench on the left and right sides of the handlebar stem. Tighten the left bolt one turn, then the right bolt turn. Keep alternating until both bolts are tight.
Photo Credits
Hemera Technologies/AbleStock.com/Getty Images