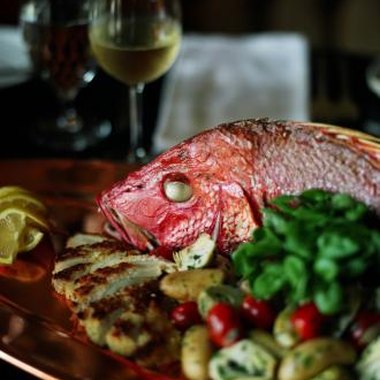 If you're having a fishing theme for your next party, deciding on the decor and centerpieces can be a bit of a challenge. Although a whole fish on a garnished platter could serve as a centerpiece, create a centerpiece that one or more of your guests could take home.
Fishing Creel with Glass Ball Floats
Perk up your party table with a fishing creel filled with decorative glass ball floats. Lay down a knotted fishing net as a base for your centerpiece. Add fishing creel, then fill the creel with a combination of foliage and multi-colored glass ball floats. Use plain glass balls and fish net-wrapped balls for greater interest. When the party is over, have each of your guests help themselves to one of the glass ball floats as a party favor.
Fishing Bob and Wood Lure Candle
Use a common decorator's idea for a fishing theme centerpiece. Purchase a large, tall glass cylinder vase and another smaller glass vase to place inside of it. Then fill the space between the two glass vases with a combination of colorful fishing bobs and old wooden lures. Keep the arrangement more transparent by mixing the bobs and lures with blue and green glass drops to allow the glow of a candle to shine through from the middle of the vases.
Fish on River Rock
For those who love to fish in a freshwater river rock bed, a centerpiece that reflects that waterscape can be a terrific table feature. Start with cutting an oval-shaped piece of thin plywood. Paint the wood base a muddy green-brown color. Then use clear epoxy glue to add a layer of river rock. Finish up the centerpiece by adding a couple of resin or wood-carved freshwater fish sculptures for a stunning party piece.
Fishing Hat with Fly Fishing Lures
Create a funky centerpiece from a fishing hat. Grab a traditional fisherman's hat or baseball cap and stuff the hat to hold a full form in the middle of the table. Then add multiple colorful and decorative fly fishing lures all over the hat. Stuff small, empty plastic bags under the hat. At the end of the party, let the guests pick off their favorite fly fishing lure and give them the small plastic bags to carry them home.
Resources
Photo Credits
NA/Photos.com/Getty Images