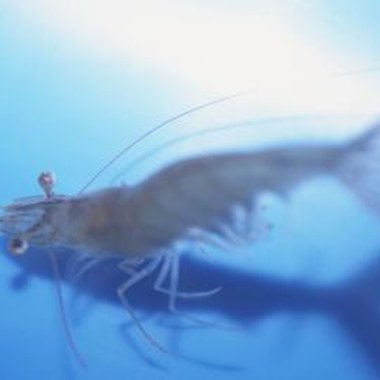 Fisherman consider shrimp, although they are small, as one of the best types of live bait for saltwater fishing. A live shrimp often creates a lot of attention in the water as it kicks and squirms, attracting fish. Additionally, you can buy live shrimp and keep them alive without much work. Always use a hook that fits the size of the shrimp--not too small or too big--and ensure you put the shrimp on the hook correctly. Otherwise you could kill the shrimp, decreasing your chance of catching a fish.
Step

1
Insert the hook from under the shrimp's head, pushing it upward and through the top. Avoid the dark spot on the top of the head. You will kill the shrimp if you hit that spot. This approach works well if you are trolling or casting and reeling the shrimp back in.
Step

2
Hook through the shrimp's tail, ensuring you get far enough into the body that the shrimp won't rip away from the hook. This method allows the shrimp to squirm, creating lots of movement to attract a fish, without killing it. A shrimp can stay alive for a long time when hooked this way.
Step

3
If you are bottom fishing, push the hook through the top of the head, pressing down through the bottom. Again, avoid the dark spot on the top of the head. This approach works well for bottom fishing, since the shrimp is upside down and will sink to the bottom easier.
Photo Credits
John Foxx/Stockbyte/Getty Images