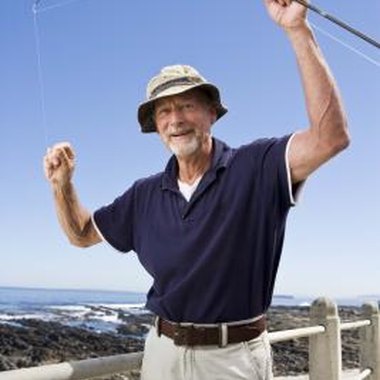 Tuna fish have terrific flesh. The fish frequently are sought after in New England, where they can be best caught in the fall months. The fish are imposing prey. They can weigh great amounts, such as the 50 to 60-lb. yellowfin, and challenge fishermen with their deftness and speed. Experience is the best teacher in learning to land a tuna fish. Even the most seasoned tuna catchers stick to time-tested techniques. The proper choice of bait and strong rigging technique can help you yield success.
Items you will need
Butterfish

Squid

9/0 hook

Fluorocarbon monofilament line

Rubber bands

16/20-oz. bank sinker
Step

1
Anchor your boat in a prime location. New Hampshire, Massachusetts and Maine are known for harboring fertile waters for tuna. Point Judith, Rhode Island, is also a spot known by experienced fishermen as an ideal area, thanks to its proximity to the Gulf Stream.
Step

2
Prepare your bait. After the anchor has been set, you and your crew should immediately establish a chum slick, which is a line of bait chunks--frequently frozen butterfish, that will put your boat on the radar for game. Tuna are attracted especially to squid; use the mollusks alive, or sardines, as your primary bait.
Step

3
Set your rigs. Tie a 9/0 hook to the primary monofilament line. Attach a rubber band to the line one fathom away from the hook. Attach a 16/20-oz. bank sinker to that band. Hook frozen butterfish through the gill onto the line 6 feet after the sinker, hiding most of the hook in the body of the fish.
Step

4
Submerge your line, lowering it anywhere from 40 and 250 feet. However, ensure that everyone in your party chooses different depths for the bait. Take regular pauses while lowering your line slowly as you reach the depth of your choosing; this process ensures that your bait doesn't wrap around the main line.
Step

5
Arm yourself for when a tuna bites the line. As fish of great heft, tuna can be relentless on a line and aggressively attack bait. Ensure your line is straight and pointed at the fish. Do not allow your line to cross other lines and rod. Anticipate the tuna taking you round and round the boat. You'll likely need to bob and weave through your boat mates to keep the line secure. Use the boat rail as leverage for a heavy tuna. It can take up to one hour to land a tuna into the boat.
Step

6
Clean your fish after it has been landed. Cut off its head immediately. Tag the tuna on its back fin. Set it in ice to preserve its flesh.
Photo Credits
Jupiterimages/BananaStock/Getty Images