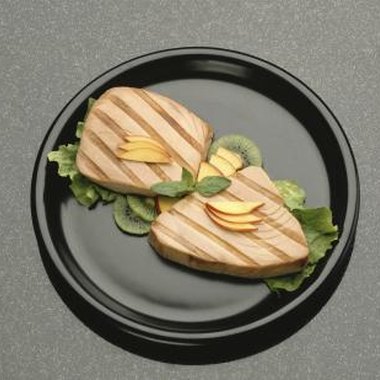 Casting a line off the waters in Oahu in the tropical Hawaiian sunshine, reeling in some tuna, taking it to shore and cooking your spoils -- this is angling at its finest. Tuna fishing in the clear blue waters of the North Pacific Ocean under the baking Hawaiian sun is simply a fantastic way to relax and enjoy some recreational sports during your travels. Fishing in Hawaii does require some prior organization, however, including arranging boats and fishing equipment and following Hawaii's fishing regulations.
Items you will need
Fishing boat

Fishing equipment

Freshwater tourist fishing permit (optional)
Step

1
Identify best locations where tuna are in plentiful supply near your Hawaiian island. You can achieve this by contacting local anglers and fish equipment hire companies, or carrying out online research. Asking local anglers is ideal; their knowledge will be current and reliable. According to Kuuloakai, skipjack tuna will be found off the shores of Haleiwa, while yellowfin and skipjack tuna sit 1,000 fathoms deep off the shores of Oahu.
Step

2
Contact a local boat rental company to hire a boat or book yourself onto a chartered fishing trip. Hire a boat if you prefer to lead your own angling expedition for tuna -- note, you should only do this if you have experience controlling a boat and a basic working knowledge of the Hawaiian fishing regulations. Leave a deposit with a boat rental company if you hire a boat yourself. Join a chartered fishing trip if your fishing knowledge is low, if you are uncertain about operating a boat or if you do not know Hawaiian fishing regulations.
Step

3
Hire some fishing equipment if you have not traveled with your own and are hiring your own rental boat, rather than joining a chartered trip where you will be provided all the requisite equipment. Ensure you have all the necessary equipment to fish, and ask the rental company if it can give you any advice for catching local tuna. Ask the rental company if it has a species chart for Hawaiian fish to help you avoid accidentally catching and returning to shore a protected species of fish.
Step

4
Commandeer your boat off the shore and anchor your vessel at the point you have previously researched, or sit as a passenger on a chartered fishing trip. Bait your hooks, cast your lines, sit back and wait for some of the freshest North Pacific Ocean tuna to come reeling in.
Tips & Warnings
You do not require any licenses for saltwater fishing in Hawaii, provided you are not selling tuna for commercial purposes.

You do require a license for freshwater fishing in Hawaii. Licenses can be obtained for a small fee as a seven-day tourist permit.

Note that snagging a fish is illegal in most areas of Hawaii, and can lead to a citation and fine from the authorities. Snagging is where you cast out multiple unbaited hooks and reel them in very quickly hoping to catch (or "snag") as many fish as possible, resulting in fish being caught through the body rather than the mouth.

It is illegal to retain some species of fish, even if they are deceased. Always exercise caution when returning to shore with fish, and be sure you know what species of fish you have caught.

Always look out for restrictions on fishing. Although fishing is widely acceptable, it is not permissible in certain waters, which will be clearly marked with signs.
Photo Credits
Ablestock.com/AbleStock.com/Getty Images