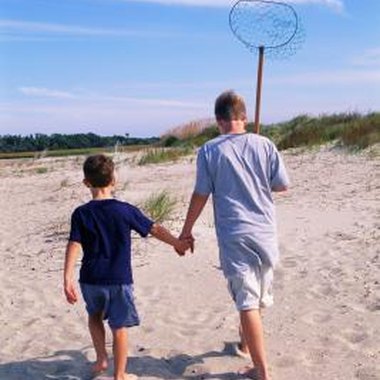 Florida residents can fish year round at South Causeway Park in Fort Pierce. Access is somewhat limited at the park, which is within the Fort Pierce Inlet. Its single ramp "is shallow, and because it's in the inlet the current or moving tides make launching difficult," according to the Palm Beach Fishing Report. But once you get to the water, fish are there for the taking.
Step

1
Determine whether you need a saltwater fishing license to fish at South Causeway Park in Fort Pierce. Florida Fish and Wildlife Conservation Commission says exemptions include residents younger than 16 and 65 or older, the permanently disabled, members of the armed forces, and those fishing on a homestead or at a location with a valid permit.
Step

2
Drive to South Causeway Park. It is off Seaway Drive on the east side of Fort Pierce. Take fishing poles and bait. Park and walk to the inlet.
Step

3
Determine the proper rods, reels and baits you need for inshore fishing in Causeway Park. White's Tackle in Fort Pierce suggests Bagley, Bomber and Rebel lures for the area. If soft bait is more what you are looking for, White's Tackle suggests Rip-Tide, Storm or Tsunami bait.
Step

4
Buy or bring the proper bait and tackles for offshore fishing. Common offshore fish are blue marlin, yellowfin tuna and grouper. For catching these species and others offshore, White's Tackle suggests Ande, Berkley or Suffix fishing line. As for lures, C&H; Lures, Rapala or Yozuri are suggested. If you prefer fishing with bait, try chum, squid, or ribbonfish.
Step

5
Take a trip on the newly launched ecotourism program in Fort Pierce to learn more about the fish and wildlife located in the Causeway Park and greater Fort Pierce area. For information on programming and development, e-mail ewoodruff@city-ftpierce.com. (Reference 6)
Photo Credits
Thinkstock/Comstock/Getty Images