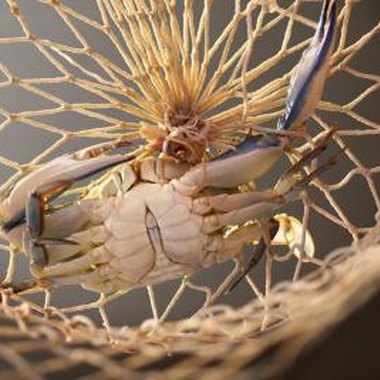 Soft-shell crabs are blue crabs that are shedding their hard shell. During this stage of the crab's life, it slides out of its hard shell and lives with a soft shell for a period of three to four hours; because of this brief window, soft-shell crabs are highly sought after. These delicacies can be picked up from the water along the coast of Alabama, especially in the Mobile Bay area, during the months of April to September.
Items you will need
Propane lantern

Flashlight

Extra wicks

Lighter

Fine mesh net

Bucket or other container
Step

1
Gather the supplies that you will be taking with you. This includes a propane lantern, a flashlight, a fine mesh net and a container to hold the crabs. Be sure you have something to light the lantern in case the flame goes out.
Step

2
Head out to the crabbing spot at nightfall. Grassy areas near the beach will usually have the most clear water, which will allow you to see the crabs well.
Step

3
Look around everything in the water including rocks, logs and other debris, as these are places that crabs like to hide. Also, watch for a crabs with their claws pointing upward; this is often the hard outer shell that the crab has just shed, and means a soft-shell crab is likely close by. Soft-shell crabs are weak and not able to move quickly, so continue to search the area if you don't find the molted crab immediately.
Step

4
Scoop up the crab with your net once you have located it. Place it in your container and start your search again.
Tips & Warnings
The western shore of the bay is known as a more popular spot for crab hideouts. This is due to the muddy consistency of the shore, giving the crabs good places to burrow in the ground.

Bayport Road, Alabama Port and Dauphin Island, accessible to the public on the western side of the bay, are common places to go crabbing. On the eastern side, public bay access is found at Mayday Park in Daphne, Fairhope Pier and Mullet Point.
Photo Credits
Thinkstock Images/Comstock/Getty Images