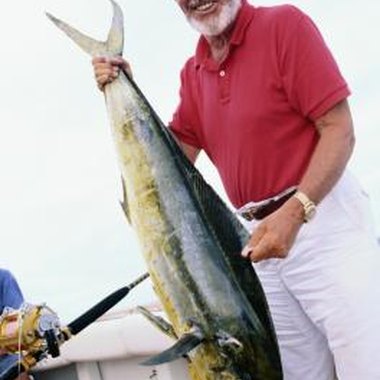 The Intracoastal Waterway is an expansive system of rivers and channels used to transport goods across the United States. Stretching along the Eastern United States and down across the Gulf region, the waterway acts as a shelter from coastal hazards and has thus become popular for leisure boaters. Because many of these sounds and channels are habitats for game fish, states regulate intracoastal fishing rights within their jurisdiction. Although states have their own rules and regulations for fishing within their intracoastal bodies, the process for obtaining a license to fish remains largely unchanged.
Step

1
Select a location and identify the governing state thereof. Because the intracoastal waterways are designed for navigability, fishermen run the risk of obtaining a fishing license valid in one state while actually fishing in another's jurisdiction. Selecting a specific location in which to fish will allow you to avoid these problems and their potential fines.
Step

2
Obtain the appropriate fishing permits. Some states issue a single permit for all types of fishing, while others require fishermen to obtain special permits for saltwater fishing activities. Permits are issued by a state's wildlife and fisheries department.
Step

3
Identify any rules and regulations for fishing the chosen location. While states have general regulations that must be followed across their jurisdictions, such as whether or not a state permits chumming or the use of live bait, they will also enact regulations for specific bodies of water in order to protect local ecosystems. Closures within these zones are staggered throughout the year and may change from one year to the next, so check with the state agency.
Step

4
Go fishing. Once you have reviewed the necessary permits and are familiar with the rules for fishing in your selected area, it is time to fish! While fishing, it is important to remain wary of the size, species and amount of fishing that you are bringing in. Ignorance is not an excuse, and accidentally keeping a prohibited species can result in a fine or license suspension. For example, Florida angelfish catches are limited to five per day, with varying size limits for the different types of angelfish found in the state.
Tips & Warnings
Some states do allow residents of neighboring states to fish with their out-of-state licenses. Given the significant price difference in resident vs. nonresident permits, this may allow an avid fisherman to save several hundred dollars a year in fees.
Photo Credits
Steve Mason/Photodisc/Getty Images