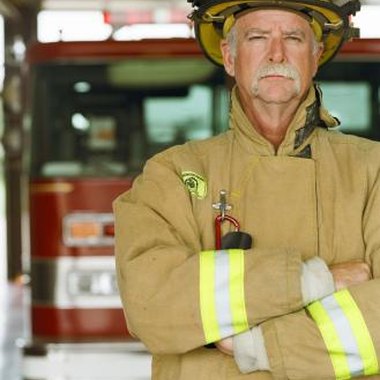 A retirement party for a firefighter should focus mainly on the firefighter's career, since it has probably been of huge importance in his life. The retirement party could be a small, intimate gathering of close family members and coworkers, or a larger, more formal party in a hall. Once you've decided on the size of the party, you can get to work on the details.
Food
Food at a firefighter's retirement party can definitely be tongue-in-cheek. At a casual gathering, offer Five-Alarm Chili or a variety of chicken wings ranging from mild to extra hot. Set out chips, flat breads and several dips, along with different types of hot sauce for tasting. A more formal dinner could feature blackened chicken and roasted potatoes.
Decorations
Purchase plastic firefighter hats at a kids' party store. Fill them with flowers for centerpieces or to accent a buffet table at the retirement party. Keep the color scheme to red, orange and yellow to echo the colors in fire. Add napkins and balloons in those colors. Have a cluster of candles of different heights on each table, and hide the obligatory fire extinguishers underneath!
Music
Continue the theme with the music you choose, playing "Hot Hot Hot" by Arrow, "Light My Fire" by The Doors and "The Heat Is On" by Glenn Frey. Mix in songs related to water, such as "Smoke on the Water" by Deep Purple, to cool down the music mix. Be sure to include music from the year that the retiree started working at the fire department.
Gifts
Choose gifts that mark the occasion and honor the retiree. If a large group of people get together to purchase a gift, buy a piece of equipment for the fire hall in the retiree's name, or set up a scholarship in his name. Or purchase mementos that will remind her of her career. Take a group picture of the other members of the fire hall, and record each person telling a story about the retiree ahead of time. The video can be played at the party and will make a memorable gift as well.
Photo Credits
NA/Photos.com/Getty Images