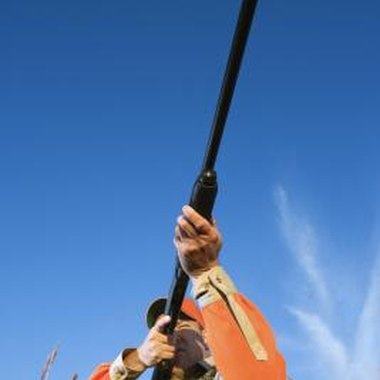 Pennsylvania is one of the most popular hunting destinations in the United States. Its varied terrain and plush abundance of wildlife make it desirable among novice and expert hunters alike. The Pennsylvania Game Commission enforces firearm regulations during hunting season and provides clear rules for all interested game hunters. Title 34 of the Pennsylvania Code, passed by the General Assembly, provides all the statutory guidelines for safe and legal hunting in Pennsylvania.
Unlawful Devices and Methods
Title 34 Section 2308 lists the various devices and methods that hunters may not use while hunting for game in Pennsylvania. Hunters may not use an automatic firearm or similar device. The law also prohibits semi-automatic rifles or pistols for use in hunting activities. Semi-automatic or magazine shotguns are illegal for hunting small game, fur-bearers, turkey or unprotected birds unless the shotgun has only a two-shell capacity. Hunters may not use any device operated by air, chemical or gas cylinder that propels a projectile of any kind. Hunters also may not use lighted flashlights to hunt game.
Exceptions to Unlawful Devices
Section 2308(b) of the code provides exceptions to the outlawed devices. Hunters may use an archery or firearm scope that contains mechanical, photoelectric, ultraviolet or solar-powered devices solely to illuminate the sight or crosshairs within the scope. The restrictions also do not apply to the hunting or trapping of coyotes within Pennsylvania.
Restrictions While Hunting Big Game
The code defines big game as elk, whitetail deer and the bear. It is unlawful to hunt big game with any device other than a centerfire or muzzle-loading firearm or bow and arrow. This means you may not use automatic or semi-automatic firearms, except for modified semi-automatic firearms that allow no more than four shells in the magazine. Also outlawed is any firearm propelling more than one projectile per discharge. Projectiles must consist entirely of lead and expand on contact. You may not hunt big game while it is swimming.
Taking Furbearers
Fur-bearers include the badger, the fisher, the mink, the muskrat, the opossum, the otter, the pine marten, the striped and spotted skunk, the beaver, the raccoon, all weasels, the red and gray fox and the bobcat. Firearm regulations are similar for hunting fur-bearers as for hunting big game. Regulations expressly allow the use of firearms to hunt fur-bearers as long as the firearms are not automatic or semi-automatic. Hunters may not set traps to hunt fur-bearers unless the hunter is under 12 years of age.
References
Photo Credits
Jupiterimages/Comstock/Getty Images