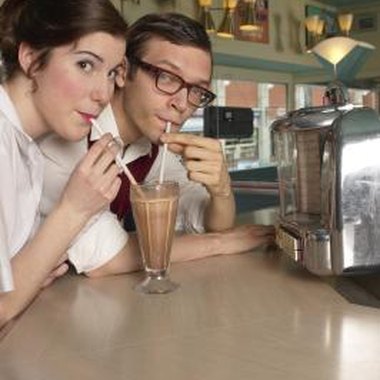 One of the most iconic eras in American history, the 1950s was a decade full of rock-n-roll, poodle skirts and waitresses on roller skates. Fifties parties were full of fun, dancing and food -- all the ingredients needed for a good old-fashioned get-together. A great party starts with a great invitations, so for your '50s party, choose an invitation that matches your theme.
'50s Prepster Party Invitation
Choose an invitation that features popular "prepster" fashions, like poodle skirts, bobby socks and saddle shoes, as well as classic cars and soda fountains. The object is to present an image of 1950s wholesomeness, so include wording like, "Come on down for some good, clean fun!" Consider typing your invitation on a typewriter -- a retro twist, as home computers didn't exist in those days.
Drive-in Movie Invitation
The drive-in movie theater is an American tradition which became popular in the 1950s, so to set the mood for your party, consider incorporating the drive-in. One option would be to create your invitations as movie tickets, with the name of the party taking the place of the name of the movie and the subsequent party details following. To incorporate the drive-in movie concept, consider listing your home or the party's address as "Parking Lot A." Another option would be to send your invitees old-fashioned plastic popcorn buckets with the party details inscribed on them.
Diner Party Invitation
A great idea to think about when hosting a '50s party is a diner theme. The decade was famous for diners, some of which still exist today. For a diner-themed invitation, find some black-and-white checkered card stock at your local craft store, and glue a picture of a jukebox to it. Write the party details on the base of the jukebox. Include pictures or caricatures of diner-style food, like hamburgers, fries and milkshakes in your invitation.
Greaser Theme Party Invitation
In stark contrast to the prepsters of the '50s, the "greasers" were made famous more recently, appropriately enough, by the movie "Grease." For a greaser party invitation, purchase pre-made cards in the shape of motorcycles, or make your own out of construction paper and include the party details in the assigned spots. Make sure to include your own special wording, like "Slick back your hair and pull out the leather."
Elvis Theme Party Invitation
While there is plenty of amazing music that originated in the 1950s, Elvis is by far the most iconic musician to have emerged from the decade. There are many options when considering an invitation to your Elvis party. Print out a photo of Elvis, glue it onto a blank invitation, and include your own wording on the front that incorporates his lyrics in some way. "Come get all shook up at our 1950s Elvis party!" is one choice. A humorous approach would be to include a phrase such as "You're invited to our '50s party - just don't step on our blue suede shoes!"
Photo Credits
Hemera Technologies/AbleStock.com/Getty Images