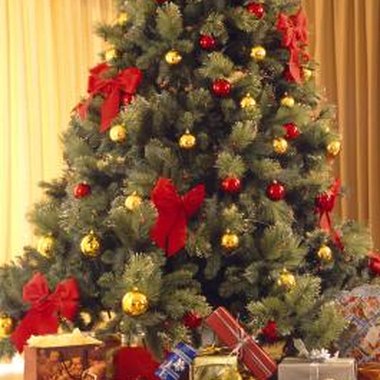 Port Huron, Michigan is a small town that encompasses eight square miles, seven of which border the St. Clair River and the base of Lake Huron. A thriving tourist town, Port Huron is also home to Port Huron Hospital, a 186-bed hospital established in 1882 that has won numerous awards and has multiple accreditations. Located at 1221 Pine Grove Avenue the hospital also maintains a center for Children's services, in part supported by the annual Festival of the Trees fundraiser.
The Festival of Trees
Held the first weekend in December, the festival starts with a preview party on Friday night and runs all day Friday and Saturday. For a nominal fee, guests may view over 100 trees and wreaths decorated by community groups and volunteers at the Festival of Trees held at McMorran Place, 701 McMorran Boulevard in Port Huron. The trees and wreaths that are put up for auction along with other donated items help raise money. Other activities at the festival may include a cookie decorating station, breakfast with Santa, a juried art show and figure skaters.
Facts and Figures
The first festival was held in 1989, and it has since been host to more than 18,000 guests at the preview parties and 180,000 visitors over the weekends. It has provided over 8,900 hours of entertainment donated by area talent and have received countless hours of free labor provided by more than 9,800 volunteers. The Festival has raised more than one million dollars for the Children's Services Center at the hospital and continues to donate more every year.
The Foundation
A non-profit organization, the Foundation is comprised of more than 1,100 volunteers who oversee a variety of giving programs and community benefit programs. They also help the hospital procure the medical equipment and funds necessary for continuous improvement projects. Additionally they raise funds not only through the Festival of Trees, but also through their Annual Golf Classic. Anyone can be a member of the Foundation; call 810-982-3776 for more information on the volunteer opportunities available.
Women's and Children's Services
Women's and Children's Services, which benefit from the Festival of the Trees, is a valuable asset to the community. Under one roof there is a birthing center, a pediatric center, cancer screening and services for women and community education classes designed to educated women about different stages of their life. The Festival of the Trees has provided the center with scopes, monitors and beds to name just a few items. The generosity of the community allows the center to make continue to make improvements.
Photo Credits
Goodshoot/Goodshoot/Getty Images