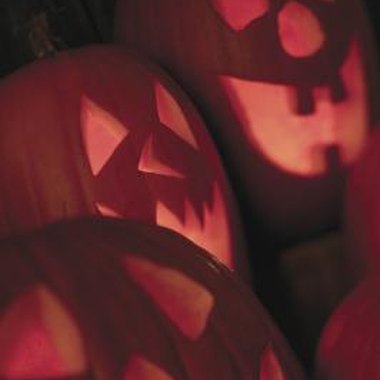 The city of Keene, located in the Monadnock region of New Hampshire, is the quintessential New England town. From the historic church that anchors Central Square to the numerous buildings on the National Register of Historic Places, a visit to Keene and its wide main street is almost like stepping back in time. Since 1991, Keene has been the site of an annual Pumpkin Festival in October, entertaining visitors and locals alike with thousands of jack-o'-lanterns as well as local crafts, food vendors and rides.
History
The brainchild of Nancy Sporborg, the Keene Pumpkin Festival began as a way to revitalize the downtown area. Hosted by local businesses, the event grew from a small festival for the community into an event that welcomes nearly 70,000 visitors. As a result of the growth of the festival, Sporborg petitioned the Guinness Book of World Records organizers to create a new category, "most lit jack-o'-lanterns in one place at one time." Each year, the festival strives to beat the current world record of 30,128 lit jack-o'-lanterns set in Boston in 2006.
The Festival
Still located in downtown Keene, the current festival sprawls along Main Street and the Central Square. Originally organized by the nonprofit organization Center Stage and often run by Sporborg, beginning in 2011, the festival will be produced by Sterling Design and Communications. In addition to traditional offerings, changes to the festival include a new layout that allows easier access to the pumpkins and a centralized food court area encompassing all the event vendors and adjacent to downtown eateries. Volunteers make the event possible, serving as hosts, at check-in tables and as the cleanup crew.
Events
The festival offers events for all ages. A children's costume parade, pie-eating contest and pumpkin-seed spitting competition are just a few of the activities that lend the festival its small-town charm. Live entertainment, from music to dancing, keeps the energy high, while carnival rides entertain guests young and old. There is a dedicated children's area for younger participants. Pumpkin displays are interspersed with vendor booths manned by local artisans offering various crafts and services.
Jack-o'-Lanterns
The carved gourds line the streets and culminate in a large, multi-level tower decked with thousands of lit jack-o'-lanterns. Community members bring carved pumpkins and register them with festival officials to be included in the official pumpkin tally, before finding a place to display their handiwork. The festival relies on these "loaned" pumpkins to provide the festive fall atmosphere and encourages participants to collect their creations at the end of the event.
Resources
Photo Credits
Comstock/Comstock/Getty Images