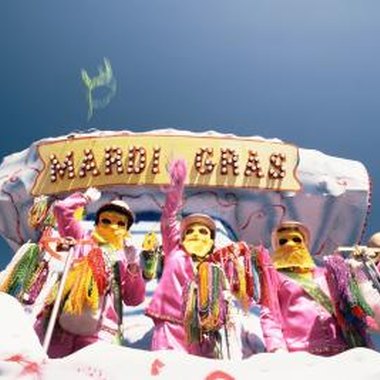 Mardi Gras, or Fat Tuesday, is a celebration marking the last day before Ash Wednesday and the start of the religious observance of Lent. As part of the tradition, carnivals are held the day of Mardi Gras to feast and celebrate prior to fasting for Lent. Over the centuries and in certain parts of the world, Mardi Gras celebrations have grown from just a single day of revelry to an entire season of parties, culminating on Fat Tuesday. In Louisiana, for example, the celebration begins with the Festival of Carnivals, a series of festivities held in the weeks leading up to Fat Tuesday.
When are the Festivals Held?
The exact date of Mardi Gras changes each year in tandem with Easter. As Lent is directly tied to Easter, so Mardi Gras is tied to Lent. As such, the exact dates for the Festival of Carnivals also change. Typically, the Mardi Gras or Carnival season starts in February, but can begin as late as March. In New Orleans, Louisiana, the official start of the Carnival season is the Feast of Epiphany on January 6, also known as Twelfth Night.
What are the Festivals?
Traditions vary widely from one country to another. For example, in Canada there is the Quebec Winter Carnival, a series of parades, parties, canoe races, derbies and other events. Brazil blends traditions from Africa, Europe and South America for a week-long series of events and parties. In the U.S., New Orleans is host to weeks of street parties, parades, elaborate masked balls and other festivities.
Mistick Krewe of Comus
New Orleans hosts one of the most famous Mardi Gras celebrations. In fact, Mardi Gras in Louisiana draws tourists from all over the world to participate in the festivities. Official events, including public parades, street festivals and masked balls, are organized by secret societies known as krewes. The Mistick Krewe of Comus is credited with organizing the first torch-lit Mardi Gras parade in New Orleans back in 1857. Regardless of official or nonofficial status, the celebrations held from January until Fat Tuesday in New Orleans are collectively considered by most to be a part of the Festival of Carnivals.
What Happens at the Festivals?
Each event, party or parade has its own agenda, traditions and attractions. Parades, for example, are meant to showcase local businesses, promote community spirit, incite conversation and entertain. The parades are often the most well-known festivities at Carnival. In New Orleans, parades are when the infamous beads and coins are thrown. Street parties typically follow parades, with revellers continuing the celebrations with live music, food and libations. Masked balls are simply social events, with some raising money for charitable causes. Other events simply offer revellers the opportunity to continue eating, drinking and being merry.
Resources
Photo Credits
Jupiterimages/Photos.com/Getty Images