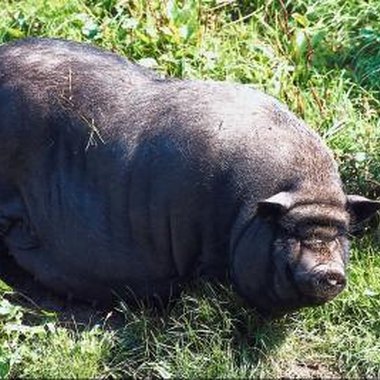 Wild hogs are considered a non-native species in Wisconsin and are aggressively culled to keep them from spreading harmful diseases to livestock and humans. Though a few hunting preserves are available to hunters in Sheboygan County, just north of Milwaukee on Lake Michigan, you'll probably have to travel to the other side of the state to find any wild hogs. That's where all the hog sightings have taken place, along the Mississippi River in Crawford County.
Get Licensed
Hunting any animal in Wisconsin, with any weapon, requires a license. For residents, a general hunting license for small game and waterfowl starts at $18, $24 for deer season. Familiarize yourself with the season, if any, during which each species of animal can be hunted (see Resources) to avoid breaking the law. It's always open season on feral hogs, though, as long as you're doing it in the right place.
Finding Hogs
Go hunting in the Sheboygan area even if you're going to pass on the feral hog hunt. You can choose from five wildlife management areas or dozens of private properties stocked with different types of wildlife. If you still want to go for the pigs, go across the state to the northern portion of Vernon County. Feral pigs have been spotted all the way to the eastern bank of the Mississippi River.
Vernon County Hog Areas
Three wildlife management areas are controlled by the state in Vernon County. These are among the places where you should have the most luck hunting pigs. Two are moderate size: the 225-acre Coon Creek and 320-acre Tainter Creek fishery areas. The third is the Kickapoo Valley Reserve, which stretches across 8,500 acres between the cities of Ontario and LaFarge. Just don't fire within 300 feet of any buildings.
Private Land
If you want to hunt wild pigs on land other than state-controlled sanctuaries, you'll need to get the permission of the land owner. Often, these owners have secured hunting leases from the state, which can give you a list, by county, with their locations. See the Wisconsin Department of Natural Resources website for help finding the locations of the most recent feral pig sightings.
Photo Credits
Jupiterimages/Photos.com/Getty Images