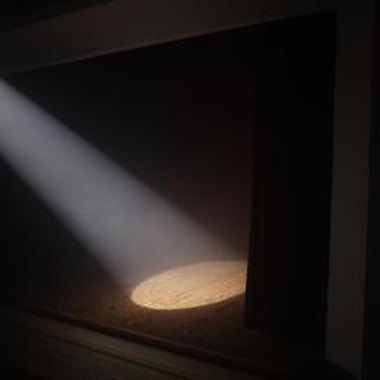 Honor the late King of Pop, Rock and Soul in costume by evoking the image of one of his many signature looks from the '80s or '90s. Any of the looks can be adapted for a feminine spin by replacing M.J.'s pants and dancing shoes with a mini, fishnets and high heels -- or by grabbing curve-hugging reinventions from online or local costume shops. As long as you don the sequined glove, there will be no mistaking you.
"Thriller"
To re-create Michael Jackson's 1983 "Thriller" look, toss on a red leather jacket and push up the sleeves to your elbows. Wear ankle-length pants, white socks, patent-leather shoes -- and a mask.
Motown 25
It was during this legendary "Billie Jean" performance in 1983 that the famous lone sequined glove made its debut, so it's a must for this ensemble, along with silver sequined socks like those he wore to match. You'll also need ankle-beater black tuxedo pants with an inch-wide satin strip sewn down the sides, a silver sequined dress shirt, a black sequined jacket, a black fedora and black patent leather shoes.
"Bad"
You can don a black leather jacket and black pants, both bombarded with zipper and buckle accents to re-create the look from Michael Jackson's 1987 "Bad" video. Push up the jacket sleeves in true M.J.-style, wear a black T-shirt underneath, and sport a black carpal tunnel brace on your right arm to give the ensemble even more authenticity. He was growing his hair out by the time this video hit the screen, so you may re-create his curls using your own tresses or buy a Michael Jackson wig from a local or online party store.
"Smooth Criminal"
The 1988 "Smooth Criminal Video" showed the world Michael Jackson at his sleekest -- crisp white tuxedo, blue button down shirt, white suspenders, white tie and white fedora hat, with wavy curls peeking out from underneath. A black arm band above the elbow on the left sleeve of the tuxedo jacket, should match the black band that also accents the fedora hat. To perfect this costume, you'll also need those snazzy black-and-white spats he wore, adorned with silver accent buttons.
"Black or White"
Another simple, yet classic Michael Jackson ensemble came from his 1991 "Black or White" video -- white V-Neck T-shirt, with open white long sleeve button-down shirt over black pants, and the signature white socks peeking out from under the leg. You might trade out the white button-down for a black one instead, which he wore in some parts of the video with a white arm band and black fedora hat. For either version, don't forget the white carpal tunnel brace and the right sleeve shoved up over the elbow.
Military Jacket
Your can find the embellished military jackets that Michael Jackson wore on the street and onstage at an online or local costume store. You may go for either red or black with gold piping -- and finish off the outfit with the silver sequined glove, black fedora and aviator sunglasses.
Photo Credits
Adam Taylor/Digital Vision/Getty Images