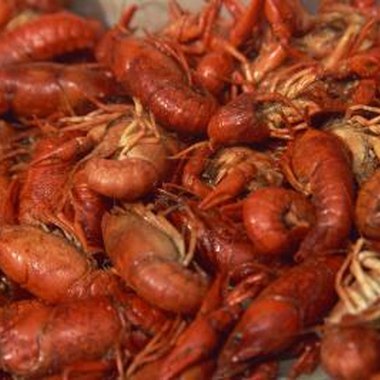 Every spring, Faunsdale, Alabama, takes on a bit of Louisiana bayou flavor for the Alabama Crawfish Festival. In conjunction with an annual bike rally on the same weekend, the tiny West Alabama town becomes host to tens of thousands of people looking for Cajun food, Southern music and other entertainment.
History of the Festival
The Alabama Crawfish Festival in Faunsdale grew out of resident John Broussard's desire to bring the culinary traditions of his Louisiana upbringing to western Alabama. In 1991, Broussard, who owns the Ca-John's Faunsdale Bar and Grill, started the festival with 600 pounds of crawfish. The crawfish sold out by early afternoon, and the festival has grown larger since. Reaching a peak of 60,000 visitors in the mid-1990s, the festival draws large crowds each year to sample the Cajun cooking and enjoy the festive atmosphere.
Food
Crawfish dishes of every type can be found at the festival, from crawfish etouffee, crawfish fritters, crawfish pie and, of course, crawfish boiled in the shell. The festival also offers hot dogs and hamburgers, as well as other traditional fare food, for those who wish to skip the crawfish.
Activities
Several local musical acts, from country to rock, perform throughout the festival, and a flea market, a trade show, and a crawfish eating contest also entertain the attendees. Children enjoy face-painting and arts and crafts, while brave adults can ride the mechanical bull.
Annual Biker Run
Typically held in conjunction with the Crawfish Festival, the Annual Biker Run is an adults-only event where bikers of all shapes and sizes converge to swap road stories, participate in contests and events, enjoy live music and generally get rowdy in a friendly atmosphere. For a per-person fee, bikers can set up tents and camp all weekend.
Photo Credits
Jupiterimages/liquidlibrary/Getty Images