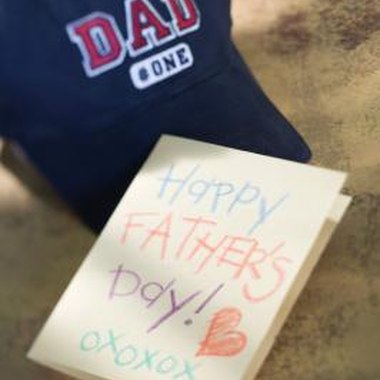 Letting your father know how much he means to you on Father's Day often involves purchasing a gift (other than a tie) that matches his interests and personality. And, thankfully, you don't have to break the bank to give Dad a token of love. There are several Father's Day gifts for less than $20 that accurately show your thoughtfulness and effort.
Cookbook
If your dad's into cooking or grilling, a cookbook featuring his favorite fare is an ideal gift for Father's Day. Add a personal message on the front of the cookbook's front cover telling your dad how much you love him and his cooking, and wish him a Happy Father's Day. If you have money left over, purchase a short apron to go with the cookbook, or a utensil he'll need, like tongs for picking the meat up off the grill or a whisk and spatula for baked treats.
T-Shirt or Hat
Purchase a plain t-shirt, along with a bottle or two of paint so your children can decorate the gifts with words like "World's Greatest Dad" or "We Love Dad." Or, buy fabric-friendly spray paint and stencils of Dad's initials, or shapes that represent his hobbies, like fish or golf clubs, to create an original Father's Day gift that fits within your $20 budget. You can also give Dad a baseball cap decorated by the children with the craft supplies you purchased to make a present Dad won't soon forget.
Electronic Gifts
Buy Dad a laptop sleeve in a color or design he prefers for under $20, along with a greeting card wishing him all the happiness and relaxation in the world on Father's Day. A mini speaker for his iPod is a thoughtful gift, as the device will amplify some of his favorite tunes. Or, purchase a gift card for him worth $10 or $20 of music from iTunes, so he can add more songs from the artists he enjoys onto his iPod.
Toiletries
Put together a collection of travel-size toiletries for your dad to stay within your $20 budget. This gift is idea for a man who travels often. Choose a small bottle of body wash in a scent like peppermint or black pepper, along with a mini can of shaving cream, a razor and men's facial moisturizer. Purchase a skinny necktie from the local thrift store to tie all the gifts together and to give Dad an extra gift if he actually likes the tie. Present the gifts to him with a homemade card letting him know how proud you are to have him as a father.
Photo Credits
Jupiterimages/Creatas/Getty Images