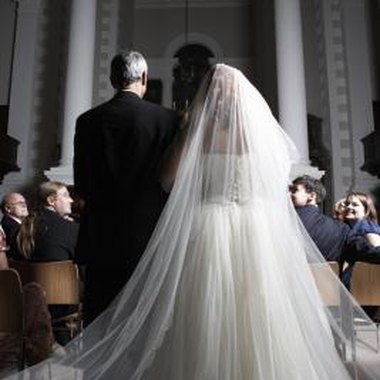 The father/daughter dance at a wedding is as common as the Hokey Pokey, the Electric Slide and the Chicken Dance. It is as expected as the bride and groom's first dance and is usually fairly emotional. Some of the toughest guys break down in tears during this dance, as they realize that their little girl is going off to start a new chapter in her life. Let's look a little closer at this tradition.
Tradition
At a typical wedding reception, the first dance is for the bride and groom, and normally, the other members of the wedding party join in. This is followed by the father/daughter dance. The bride will escort her father to the dance floor and they'll dance to a song she has chosen to express her love for him. It's not unusual to see the father cry during this dance, as he thinks about how much his little girl has grown up (of course, he might also be thinking about how much the wedding has cost him).
Songs
Much like the bride and groom's wedding song, there is no specific song for the father/daughter dance, but there are a number of common choices. Most recently, "Butterfly Kisses" by Bob Carlisle has become a favorite. "I Loved Her First" by Heartland, and "When Angels Fly" by Tony Ransom & The Heavenly Light Orchestra, are also popular.
Variations
Although not as traditional as the father/daughter dance, mother/son dances are becoming increasingly frequent at weddings. Brides will also sometimes split the dance time between both of their parents, and grooms often make a speech to recognize their fathers. When the bride's father is not at the wedding, perhaps deceased or otherwise unavailable, a surrogate is often selected for the dance. This could be someone whom the bride thinks of as a father figure, or even a grandfather.
Experimenting
Remember that a wedding is a once-in-a-lifetime (they hope) event for the bride and groom. There isn't a right or wrong way to do it. The important part is that it's done in a way that's fun, memorable and the way the bride and groom want it to be. That said, a newer theme (in line with goofy, upbeat "walking down the aisle" variations) is for the bride and her father to do more of a "performance" during their dance.
Photo Credits
Michael Blann/Digital Vision/Getty Images