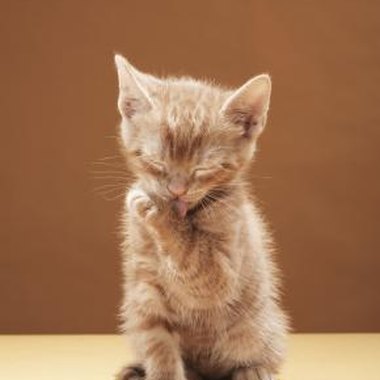 Born in 1983 in Oklahoma, Carrie Underwood grew up in a small town and attended Northeastern State University, where she competed in local beauty and talent contests. In 2004, she auditioned for "American Idol," which she went on to win, and her career since then has been meteoric. At time of publication, she was a three-time winner as the Academy of Country Music's top female vocalist award and tied with Reba McEntire for the most No. 1 Billboard country hits.
Beginnings
Underwood began singing at the Free Will Baptist Church in Checotah, Oklahoma. She grew up in Checotah, on a non-profitable farm, and her parents both worked in town. Her father, Stephen Underwood, worked in a local sawmill; and her mother, Carole Underwood, was employed as a grade school teacher. Carrie also sang at the local Lion's Club and competed at the Robbins Memorial Talent Show in Checotah.
Grammys
Underwood has been nominated eight times, at time of publication, for Grammy Awards. She has won the Grammy five times. In 2006, she won two Grammys, one for Best New Artist with her album, "Some Hearts," and another for Best Country Song, "Jesus, Take the Wheel." In 2008, she won the Grammy for Best Female Country Vocal Performance for the song "Before He Cheats." She won Best Female Vocal Performance again the following year for "Ever Ever After." In 2010, she captured the Grammy, with Randy Travis, for the Best Country Collaboration with Vocals, with "I Told You So."
Settling Down
Underwood married hockey player Mike Fisher in 2010 in Greensboro, Georgia. Both Fisher and Underwood are devout Christians. They met at one of Underwood's concerts in Ottawa, when Fisher was playing for the Ottawa Senators hockey team. In 2011, the couple purchased 354 acres of land near Natchez Trace in Tennessee, for $2.9 million. Fisher and Underwood, as of 2011, were planning to build their home on the land. After the initial purchase, they acquired an additional 50 acres of adjacent land for $350,000.
Interests
Underwood writes songs, and she plays both guitar and piano. In addition to hockey, she is a basketball and football fan, and she plays softball in benefit games. Her activist passion is animals, and she is a strong supporter of The Humane Society of the United States. She has been a vegetarian since she was 13 years old. The organization People for the Ethical Treatment of Animals (PETA) named Carrie Underwood "the World's Sexiest Vegetarian."
Photo Credits
Martin Poole/Digital Vision/Getty Images