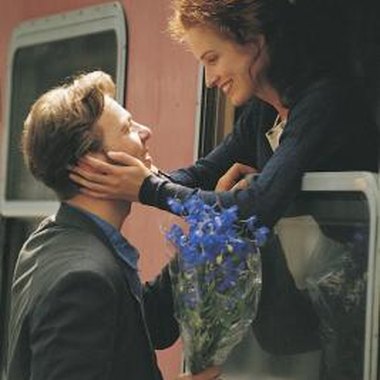 Bidding farewell to your friend or family member is never an easy task. It's always best to keep the memories shared close to your heart instead of dwelling on the fact that she's leaving. A practical way to spend time with one another before she departs is to have a farewell party. Playing interactive games will allow you to relive good times while also making more memories in the process.
Mystery Games
If the guest of honor is a fan of mysteries, consider implementing detective games into the going away party. A group scavenger hunt using locations that the person is familiar with is a fun way to relive memories while spending time with him before he leaves. Start with a card that holds a clue to the next destination where the next clue will be found. For example, the first clue may be, "When you said 'I do,' it was like magic." Guests would then travel to the place where the guest of honor was married to receive the next hint. Continue until all guests end up at the guest of honor's favorite restaurant where everyone enjoys a farewell meal. A "Clue" inspired dinner party where the guest of honor is "missing" or "murdered" is likely to go over well with guests. Include personal stories and destinations in the plot. Finally, you could enjoy some basic trivia with questions based on the life of the guest of honor, along with shared memories. Questions may include firsts, such as his first word or his first date, or favorites, such as his favorite food, his favorite movie or his favorite past time.
Make a Speech
For guests who are on the shy side, speech games will benefit them. Instead of everyone standing up to make a speech, someone else makes the speech for them. Guests are asked to write a short speech to the guest of honor on a sheet of notebook paper. Each speech is then folded and tossed into a hat. A volunteer will pick a letter from the box and read it aloud to the guest of honor. The guest of honor must then guess who the letter is from.
Safe Gambling
If the going away party is for adults, provide a safe and stress-free way to gamble at a farewell party by playing card games such as poker or blackjack. Play for stamps and envelopes to write the guest of honor when she leaves, or opt for other prizes such as champagne, movie tickets or gift cards. Put a twist on betting by creating a bet book. Have everyone place bets on how long the guest of honor will be gone, what she will look like in five years, whether or not she'll be married or have children, and other unpredictable questions. The book will make a memorable keepsake and it will provide everyone something to look forward to.
Picture Perfect
Pass a digital camera around. Each guest has five minutes to find the perfect photo op. Candid photos are preferred, as they catch guests in their natural states, enjoying time spent with the guest of honor. At the end of the party, print out the photos on a digital photo printer and have a contest to determine whose photograph was the best. Allow the guest of honor to take the photos with him when he leaves.
Photo Credits
Comstock/Comstock/Getty Images