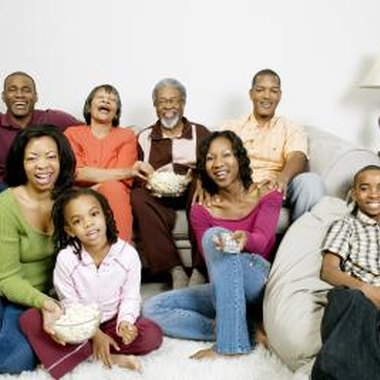 A family movie night party is one activity that allows the entire family to bond as they spend time together as a family unit. Plan a special movie night party that is engaging for family members of all ages. Add in a unique party theme and authentic movie theater snacks. Your family may never go back to watching movies in the theater again.
Be Consistent
Make the family movie night party a consistent event by getting the entire family to commit to making movie night a weekly or monthly event. Set a day of the week or a day of the month for movie night along with an official start time. Make a rule that there are no cell phones allowed during the party. Put a ban on emailing, sending text messages or making phone calls during family movie night. Afterward, spend some time discussing the movie as a family. Decide upon a movie or theme for the next movie night.
Movie Theme Night
Make your movie night parties memorable by setting a theme for each movie night. Decide upon a theme such as superheroes, princesses, sports or westerns. Encourage the family to come dressed up as a character that fits the theme of the movie. Set out snacks that are also related to the theme of the movie. For example, if the movie of the night is "The Jungle Book," set out animal- and jungle-themed snacks like animal crackers, cookies shaped like lion paws, or a pizza shaped like a fish.
Pajama Movie Night
Invite the family to attend the movie night dressed in nightclothes. Buy a set of matching footed pajamas for the entire family to wear and encourage everyone to wear them during the movie. Spread out a large blanket to sit on and add plenty of comfy pillows. Watch movies with a theme related to dreams or sleeping or those with the word "dream" or "sleep" in the title, such as "Sleeping Beauty" or "Field of Dreams."
Movie Theater Snacks
To make your family movie night party authentic, create a movie theater-style snack bar. Provide snacks that replicate those that are normally found at the movie theater. Purchase a movie theater-style popcorn machine. Serve popcorn in square popcorn boxes or large buckets and add loads of melted butter. Provide powdered seasonings like cheddar cheese, sour cream and onion, or Cajun spice to sprinkle on top of the popcorn. Lay out boxes of family members' favorite candies. Make nachos and hot dogs with all of the fixings.
Photo Credits
Creatas Images/Creatas/Getty Images