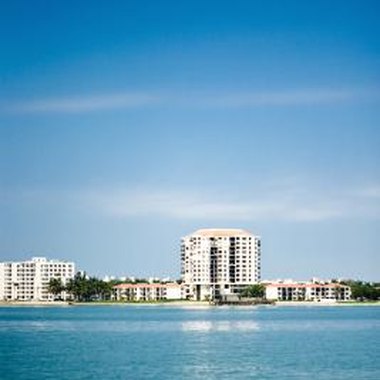 Florida specializes in family beach resorts that keep you so busy you barely have time to get to the ocean. From rental condos to hotels, you'll find a variety of accommodations that offer programs for children while their parents enjoy amenities such as golf and spa treatments. This doesn't mean you take separate vacations -- there are also activities for the whole family.
Doral Golf Resort & Spa
Parents and their children all can enjoy golf at the Doral in Miami. Adults may choose among five championship courses while youngsters take lessons or attend camps at the golf school. Families can play together in the Kids Golf-4-Free program, which allows children to play without charge if accompanied by a paying adult. If your children aren't interested in golf, they may enjoy Camp Doral instead. It includes supervised activities such as crafts, fishing and sports. The resort also offers families multiple pools and a 125-foot-tall water slide, as well as tennis and bike riding.
Island Grand at TradeWinds Beach Resorts
Heading northwest from Miami, you run into St. Pete Beach and the TradeWinds Beach Resorts. You can choose between two TradeWinds properties, but many families make a beeline for the Island Grand because of its many kid-friendly attractions. Children and parents can enjoy the five on-site swimming pools, miniature golf and lifesize chess, or they can step into the Gulf of Mexico to snorkel, water-ski, fish or meet dolphins. The Island Grand also offers babysitting, as well as an organized children's program with swimming, games and crafts.
Portofino Island Resort
On Pensacola Beach in Florida's Panhandle, Portofino Island Resort offers something for all ages. Parents get a complimentary game of golf each day, and they can relax afterward with a variety of spa treatments. Teenagers can participate in cruises designed for their age group, or they can learn how to surf or sail. Younger kids have their own program, with the activities changing each day. One day they play tennis and see a movie, and the next they engage in sea crafts. After all the activities, family members can cool off together in one of the resort's seven pool areas.
Hilton Sandestin Beach Golf Resort & Spa
The Hilton Sandestin Beach is another family-friendly resort in the Panhandle, about an hour east of Portofino Island. The hotel includes a variety of rooms, including Junior Suites, which feature an alcove with bunk beds for children. During the day, the resort offers a kids' camp that offers youngsters everything from pajama parties to sandcastle construction. In the evenings, while their parents dine, children can attend a kids' night out, with supervised activities from crab hunts to miniature golf. The Hilton also offers families boating, fishing and bicycle rentals, along with three swimming pools.
Photo Credits
Jupiterimages/Photos.com/Getty Images