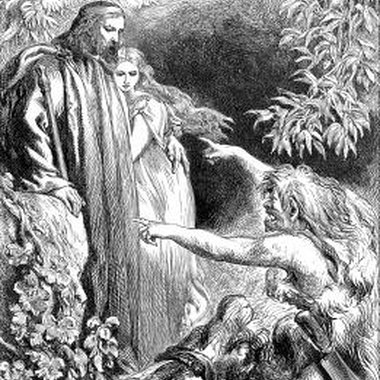 Started as a two-week event in 1962, the Utah Shakespeare Festival now runs through the summer and early fall months in Cedar City. The Festival offers plenty of activities during the fall months, including plays, backstage tours and lunches with a play's director. Additionally, there are many activities to take advantage of in southern Utah, including outdoor activities such as hiking and biking.
Plays
The Shakespeare Festival may have started with just summer productions, but it has grown into a project that includes a fall season, as well. Venues for the plays include areas in Cedar City such as the Randall L. Jones Theatre, the Auditorium Theatre and the Adams Shakespearean Theater. Each festival features a few selected classic Shakespeare plays, usually a balance between tragedies and comedies, such as "Romeo and Juliet" and "A Midsummer Night's Dream." The festival also incorporates contemporary plays, as well.
Backstage Tours
People attending the Shakespeare Festival in Utah can take tours that introduce them to everything that goes into a major production. The tours include a look at how theater sets, costumes, props and lighting are pulled together. The theater designers and technicians are available to answer questions from tour takers.
Literary Seminars
The festival offers literary seminars for visitors who are either theater buffs and who are just interested in the process. Led by theater scholars, directors and actors, attendees of these seminars are encouraged to give their thoughts and opinions on the plays and performances of the Shakespeare Festival.
Production Seminars
Production seminars at the Utah Shakespeare Festival provide visitors a more up-close look at what goes into producing a play. Seminar topics range from learning about props, viewing costumes and learning about acting. During these seminars, attendees get to talk to and ask questions of those involved with the festival and also get to see play production elements up close.
Curtain Call Luncheons
Attendees can dine and learn at a Curtain Call Luncheon. Each event features a different actor or director. This informal setting provides time for an open and candid conversation between the visitors and featured speaker of the day. Attendees are invited to ask questions, and the speaker will explain more of what goes into the production of a play.
Photo Credits
Photos.com/Photos.com/Getty Images